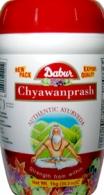 Chawanprash, known for its medicinal quality and immunity enhancing capabilities, is the highest selling ayurvedic medicinal over-the-counter product in the country, according to a study.
The Society for New Age Herbals, a non-governmental organisation working towards the development of herbal medicinal systems in India, today issued a list of top 20 selling classical ayurvedic medicines over-the-counter products in the country.
Chawanprash, with a sale of more than Rs 250 crore (Rs 2.5 billion) per annum, has been ranked at the top, followed by Triphala Churna (a mild laxative).
Other medicines among the top five are Dashmularishta (female reproductive health normaliser post-delivery) at the third place, Ashokarishta (menstrual cycle regulator) at the fourth and Lavan Bhaskar Churna (digestive) at the fifth slot.
According to industry experts, the total market of Ayurvedic, Unani & Siddha products, collective known Ayush, in India is estimated to be about Rs 8,000 crore (Rs 80 billion), of which the estimated share of classical Ayurvedic medicines is estimated to be around Rs 500 crore (Rs 5 billion).
Ayurvedic medicines are normally made from raw materials of herbal, mineral, metal, marine as well as animal origin.
The list contains only classical ayurvedic over-the-counter products and excludes metallic, herbometallic and mineral products, though they enjoy a good market share in the country.
Over-the-counter products are sold directly to a consumer without a prescription from a health care professional.