Global cervical cancer drugs majors Merck and GlaxoSmithKline are battling it out in India, which is potentially the world's largest market for such drugs.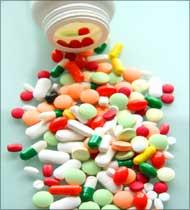 US-based Merck is confident that its cervical cancer vaccine Gardasil will help it to secure a position among the country's top five drug companies in the next five years. The world's second largest drug manufacturer currently ranks 30th in domestic sales.
"We expect Gardasil to play a key role in our India growth," says Naveen Rao, head of medical affairs for Merck's Asia Pacific Region. Merck wants Gardasil as catalyst for government's plan to immunise India's young women from cervical cancer.
Represented through its wholly owned subsidiary, MSD Pharmaceuticals Pvt Ltd, Merck will roll out one of its biggest clinical trial programmes involving about 20,000 girls shortly. The partner for this trial is the health ministry.
This mega-trial, which is on top of the statutory clinical trials required for getting a drug or vaccine approved for sale in the country, is aimed at convincing the government on the importance of the vaccine, and also the need for a national immunisation programme.
Merck is the only company other than GSK, which has developed a vaccine for cervical cancer. According to World Health Organization estimates, India registers over 130,000 new cervical cancer cases every year, with 74,000 women dying from the disease annually. According to medical experts, women are affected with the disease during their teens or early 20s. The vaccination should be given at a young age, they add.
According to official census figures of 2001, almost 35 per cent of India's one-billion plus population were women below 14 years.
Merck, which launched Gardasil with an India specific price tag of Rs 2,800 per dose last year - three doses mark the completion of the course - has charted out a five-year programme to convince the Union government of the effectiveness of its vaccine.
Prices will be much lower once these vaccines become part of the government's national immunisation programme.
Merck's collaborators, International Agency for Research on Cancer and a host of Indian partners such as All India Institute of Medical Sciences, Cancer Foundation of India, Tata Memorial Hospital and others, have identified eight locations to conduct the clinical trials.
GSK, which is among the top five drug companies in the country, has also launched its cervical vaccine Cervarix in the domestic market. It, too, is believed to have pitched for a collaborative clinical trial agreement with the government.
GSK's attempt to advertise its product had recently come under the scanner after Drugs Controller General of India issued a show cause notice for advertising its vaccine. DCGI stated that the advertisement was a violation of rules under which marketing licence was issued to GSK. GSK India averred that it was merely an awareness campaign.
"We have received a show cause notice from DCGI regarding our disease awareness campaign on cervical cancer. We are in the process of responding to the same suitably," a spokesperson from GSK India told Business Standard.