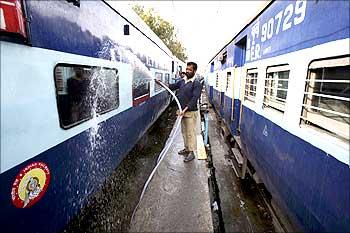 The Rs 72,000-crore (Rs 720-billion) rapid rail connectivity project linking Delhi to Panipat (Haryana), Alwar (Rajasthan) and Meerut (Uttar Pradesh) is set to enter the next stage with the Centre and the state governments concerned likely to reach an agreement on cost-sharing, the talks for which were on, officials in the know said.

"We are likely to reach an agreement soon.

"But each state has its own point of view.

"We are trying that 50-60 per cent of the cost be covered by soft loan funding and the rest as equity or subordinate debt from the Centre and state governments," said a senior official associated with the project.

Officials said the World Bank, Japan International Cooperation Agency and Asian Development Bank had evinced interest in the project.

"Various international organisations have shown interest in the project.

"We will make a decision based on interest rates, moratorium and tenure of the loan," said a government official.

Sources in the urban development ministry said the soft loan might not be raised from a single agency, but multiple funding
sources.
Officials expect negotiations with the international agencies to take some time.
The detailed project report is in the final stages and land acquisition will start after that. Approvals and funds from the state government to start the land acquisition are still awaited.
The land acquisition is expected to cost about five per cent of the total cost of the project, said a senior official.
However, other officials pointed out that costs might be affected owing to the new Land Acquisition, Rehabilitation and Resettlement Bill, 2013.
Officials in the know stated that some state governments had indicated they want the Centre to fund the entire corridor in their state.
"But we are making our efforts to bring everyone on the same page," said a senior official.
The National Capital Region Transport Corporation was set up in August 2013 to design and implement the rapid rail transit system with 50:50 ownership patterns between the Centre and the states.
The ministries of railways and urban development together will contribute towards 50 per cent of the Centre's equity.
The three corridors running across NCR will cover 381 kilometer. The project is expected to be completed by 2019.