In an attempt to get states to implement the Goods and Services Tax (GST) by next April, the Centre has softened its stance on most proposals in the draft Constitutional Amendment Bill that Finance Minister Pranab Mukherjee hopes to pilot in the monsoon session.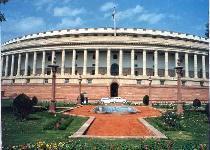 In the revised draft sent to states last week, the Centre has agreed to keep entertainment tax and entry tax levied by local bodies out of the GST purview.
It has also diluted its stand on the GST Council, Disputes Settlement Authority and veto power to the Union finance minister.
The move may yield results, as most states are likely to agree to the revised draft during a meeting of the Empowered Committee of State Finance Ministers on Wednesday.
Apart from the changes, an appeal by Mukherjee to all political parties and states to support GST may help build a consensus.
"Broadly, it (the revised Bill) is acceptable. Changes are in the direction we had suggested. We will also consult other Left parties on the issue," said Kerala's finance minister, Thomas Isaac.
Madhya Pradesh's Raghavji, the most vocal critic among state FMs of the proposed regime, said he would want some clarifications on the Bill before consenting.
According to the new Bill, officials told Business Standard, the Centre will seek a Parliamentary nod for establishing a Disputes Settlement Authority, which was earlier proposed to be set up under the Constitution. The DSA will have a chairman approved by the Supreme Court and two eminent people as members.
The Bill provides that if a state deviates from the agreed rates and in the process impacts trade in another state, the GST Council would be able to direct the offending state to compensate the affected state. The Council's decision can be challenged only in the Supreme Court, an official said.
In the revised Bill, the Centre has also agreed to the states' demand for no exclusive veto power to the Union finance minister. It has now said all decisions will be taken after a consensus among all states and the Centre is reached. Raghavji said a clarification was needed on what "a consensus" would mean.
During the past fortnight, Mukherjee held two rounds of meetings with EC chairman Asim Dasgupta, finance minister of West Bengal. He also spoke with Sushma Swaraj,  Leader of the Opposition in the Lok Sabha, to convince Bharatiya Janata Party-ruled states. The BJP and the Left parties had vehemently opposed the GST Constitutional Amendment Bill during the earlier EC meeting on August 4.