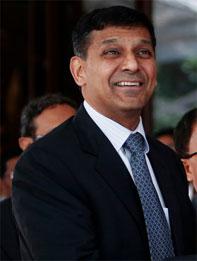 Reserve Bank Governor Raghuram Rajan on Tuesday said the government's target of reducing the current account deficit (CAD) to $70 billion or 3.7 per cent of the GDP in 2013-14 is "imminently reachable".
"...there is increasingly a sense amongst analysts, commentators that India's current account deficit (CAD) problem is under control. $70 billion that the government proposed as a CAD after calculating it with us seems now imminently reachable. Some independent analysts are saying it will be even better," Rajan told CNBC TV18.
The government is targeting to bring down the CAD, the gap between foreign exchange outflow and inflow, to $70 billion this fiscal.
The general sense amongst the public, he said, is that the CAD is now an issue and barring exceptional circumstances like a dramatic price hike in oil, is going to be under control.
The financing of CAD is in place, he said, adding, "there was a period where analysts were competing with each other to find a bigger number for the rupee-dollar exchange rate, now most people say wherever it is, few rupees this way, that way is a reasonable level".
The Governor's confidence on lower CAD emanates from drastic reduction in gold imports and pick in merchandise exports.
Higher gold imports and slowdown in exports were among the main factors in pushing CAD to a record high of 4.8 per cent of GDP or USD 88.2 billion in 2012-13. India's gold imports were at 335.1 tonne in April-June quarter, but have declined to 58.37 in the second quarter (up to September 25).
Government expects gold imports to come down to 800 tonne in 2013-14, down from 845 tonne in the previous fiscal.
To curb huge demand for gold, government recently announced host of measures including hike in imports duty. The RBI too has put curbs on gold imports.