Buying stocks in some beaten-down sectors could pay well, as interest rates are set to decline in the coming months. Motilal Oswal, chairman and managing director of Motilal Oswal Financial Services, speaks to Vishal Chhabria & Jitendra Kumar Gupta on investment strategy in these volatile times. Excerpts: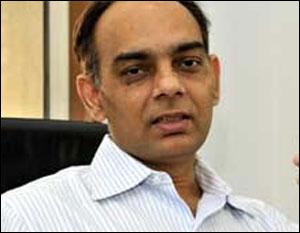 What are your expectations from the (Union) Budget?
Since many of the (needed) policy initiatives are already taken, there should not be much to talk about. Still, I would say no negative news will be positive news for the markets. We do not expect good news but we also do not want to hear any bad news. At this time, the market is concerned about the inheritance tax, hike in customs duty, service tax, etc.
Do you think the hope of an earnings recovery is for real?
We are expecting Sensex earnings in FY14 and FY15 in the region of 15 per cent. This is significantly higher, as Sensex earnings between 2008 and 2013 have grown at just eight per cent (yearly). Today, the biggest worry is the inflation rate, which is hammering the growth of companies. But once inflation cools, it will boost earnings due to lower interest rates and higher demand.
Companies will be able to save not only on interest but also on input cost. Corporate profit growth has underperformed nominal GDP growth. In the next two years, corporate profit can hit about 15 per cent annual growth.
Keeping these in mind, we have projected a year-end target of 23,000 for the Sensex. The bigger trigger for markets would be the RBI (Reserve Bank of India) action in the coming months. We are expecting a 100-basis points cut in rates in 2013. This could bring a huge amount of positive impact on industries. Many companies in the infrastructure, construction and real estate space have been hurt big-time because of high interest cost.
Will the optimism on the real estate sector sustain in the coming months?
In real estate, the problem is most companies are over-leveraged. My sense is that we have seen the worst in the sector and the growth in the next couple of years could be in the region of 20-25 per cent. The market is now improving, companies are de-leveraging. I think there are still good companies to own in this space, having sound balance sheets and business prospects.
You are also bullish on public sector banks (PSBs). Why?
In the last two years, private sector banks have done very well even in the bad times. PSBs have suffered due to asset quality issues and the distressed portfolio of clients to which they have lent. PSBs could be the biggest beneficiary of lower interest rates.
Presently, the margin of safety in PSBs is very high. In terms of share prices, there are possibilities that PSBs could do well in the coming months, compared to private sector banks. We like banks such as SBI, Canara Bank and Oriental Bank of Commerce in the public sector space.
What about capex-led sectors?
Confidence is still low for capital-intensive sectors. Government has shown the intention and if things continue as projected, like a good Budget, there is hope for revival and people will start thinking of making long-term investments. But, it will be clear only after the Budget whether the government is in election mode or wants to continue doing the right things.
During the election period, though, there is usually fear about policies. Most of the big investments will happen after the (general) elections (of 2014). Till that time, capex will keep happening but in smaller amounts where it is needed. As of now, in engineering and infrastructure, investments are not happening because of policy issues and higher interest rates. I would rather bet on cement companies at this point. We are quite bullish on mid-cap cement firms from a two-year perspective.
How would you advise on positioning one's portfolio at this time?
I think one should own a portfolio of 12-15 companies from different sectors. The ones I've just mentioned, such as cement, PSBs and real estate, are beaten-down sectors but that does not mean one should own all of these. A portfolio of firms in the automobile, pharmaceutical, information technology and private sector bank segments should do well.
Photograph: Kind courtesy, BusinessToday