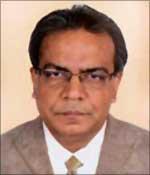 Dr. Siddhartha Roy, economic advisor, Tata group discussed the Union Budget, its economic impact and India's growth prospects with our readers.

Here is the transcript:
Dr. Siddhartha Roy says, Hello, I am ready to answer your questions
---
najma asked, Sir, are you happy with the budget? If yes, why? If not, why?
Dr. Siddhartha Roy answers, at 2013-03-04 14:40:57: The budget has been presented under difficult circumstances. GDP growth rate is plumetting, the country is faced with the twin deficit problem of high fiscal deficit and a burgeoning current account deficit, on top of this inflation continues to remain at an elevated level. Against this background the budget courageously focuses on fiscal consolidation programme which is indeed commendable. It has pruned the existing deficit to 5.2% level and plans to bring it down further to 4.8% in 2013-14. This will enable RBI to bring down the rates which in its turn will encourge invstment & growth. This apart the 15% investment allowance for large projects (above Rs.100 crores) can provide some stimulus. Fiscal consolidation will help in improving domestic savings and strengthen investor confidence, particularly that of foreign investors.
---
Roopa asked, Is 10% surcharge on the super-rich a good move? To what extent will this help the country?
Dr. Siddhartha Roy answers, 10% surcharge has more politcal meaning than economic compulsion. There are only about 42,800 people in this category. A better thing would have been to expand the coverage of the people under the tax net. In fact, expanding the tax base is always economically more sensible.
---
Sonal asked, Do you think India can become an economic superpower as the FM says when a majority of the population still live in poverty?
Dr. Siddhartha Roy answers, In order to provide people a better life and ameliorating poverty growth is essential. Further that growth is not sustainable if we do not have fiscal prudence. Without fiscal prudence we can land up in a situation like Greece. Keeping this in mind the FM had very little option but to go for a prudent budget which focuses on fiscal consolidation and at the same time has increased the planned expenditure.
---
Anil asked, Do you think the current budget will lead to dowgrading of Indias credit rating?
Dr. Siddhartha Roy answers, The budget if anything has been an important step for consolidating the reform momentum. Hence if rating agencies are objective and our economic growth performance continues to proceed in the planned trajectory, there is no reason why India shoud be down graded.
---
CVRMurthy asked, Dr.Roy, growth expectations are based on Private investment .What kind of investment we can expect from PSUs and Private sector
Dr. Siddhartha Roy answers, For improving investment scenario govt has announced 15% investment allowance for total investments over Rs.100 crores in plant and machinery during the two yrs ending March 2015. This coupled with an RBI rate cut which should be possible in an environment of fiscal consolidation can provide the necessary encouragement to brownfield investors in both private and public sector. However, for encouraging large greenfield projects one needs to hve further reform measures in the areas of land acquisition, regulatory/environmental clearances, mining rights etc.
---
Anand asked, What are the biggest challenges Indian economy faces?
Dr. Siddhartha Roy answers, The biggest challenge is to have sustainable growth which is inclusive. In other words growth which affects the life of both rich and poor positively. This cannot be achieved without keeping inflation low. Hence we need sustainable inclusive growth with low inflation.
---
mra asked, Dr Roy, the Finance Minister is expcting to contain the fiscal deficit to less than 4.8% of GDP. However, this assumes a reasonably high growth rate of GDP. Do you think this is a rwalistic assumption? M R Aravindan
Dr. Siddhartha Roy answers, The implicit GDP growth assumption for 2013-14 in current market prices is 13.4% which ties up with around 6.5% real growth in GDP and 6.5-7% growth in inflation. Hence the assumptions are reasonably realistic. With investment rate which is around say 32% in 2013-14(less than 2011-12 investment rate of 35%) and an incremental capital output ratio of 4.5 a 7% real growth of GDP is possible.
---
shrikant asked, Should govt focus on import substitution with rising trade deficit?
Dr. Siddhartha Roy answers, One way of getting out of international recession is through the expansion of international trade. So if any country tries to raise its import tariffs even within WTO rules of the game, it will immediately meet with tit for tat reaction from other trading partners in the export front. Hence trying to restrict trade may not lead to greater welfare/bonanza for the country. Secondly several of our key import items like petroleum and its products, minerals (other than gold), etc. are necessary imports and cannot be substituted. Finally competition with imported products improves the competitiveness of the economy. And helps in future exports.
---
Dr. Siddhartha Roy says, Goodbye.