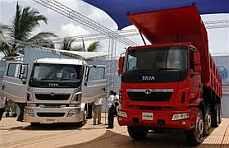 Commercial Vehicles: Budget 2013-14 Analysis
Budget Provisions
Proposal to allocate Rs 14873 crore to Jawaharlal Nehru National Urban Renewal Mission.
Proposal to purchase 10,000 buses under Jawaharlal Nehru National Urban Renewal Mission (JNURM).
Investment allowance of 15% for investments above Rs 100 Cr as a tax incentive.
Financial Year 2013-14 expenditure plan will be 30% higher than FY 2012-13 with total expenditure to be 5.5 Lakh Crores. Focus on Infrastructure, Agriculture and Road Projects
Setting up of a regulatory authority for roads, target of 3000 km of project award in first half of FY14.
Encouraging Infrastructure Debt funds would provide a scheme for take out financing, credit enhancement by IIFCL
Tax-free bonds up to Rs 50,000 crore will be allowed in the new financial year.
Proposal to provide an additional deduction of interest of up to Rs 1 lakh on housing loans of up to Rs 25 lakh for the first time buyers in addition to the current exemption of Rs 1.5 lakh.
Tax Concession on spare parts of environment friendly vehicles extended till Mar '15
DTC Implementation deferred.
The development on the GST front. The finance minister indicated that there has been some consensus that has emerged on the issue and that it will get passed in the near future
Industry Expectation
With the need to grow at a much faster clip, the industry demanded excise duties to be brought to previous levels and policy stimulus. ie at levels of 10% or 22%.
Seeking an excise duty structure as stated in the auto policy and the 10-year Auto Mission Plan (AMP).
Asked for a concessional excise duty structure -- an equivalent GST to be applicable at 10% flat across all segments such as cars, two-wheelers and commercial vehicles.
Concrete announcement regarding roll-out of GST
Special schemes for commercial vehicles under Jawaharlal Nehru National Urban Renewal Mission (JNNURM) to boost the sector
Boost in infrastructure industry to revive demand in CV sales. MAT tax to be lowered/ abolished for infrastructure players.
Creation of long term dedicated debt funds for infrastructure.
Priority sector lending status for infrastructure sector funding. The move will ease the cost of funding for the infrastructure sector.
Reintroduce tax saving infrastructure bonds.
Budget Impact
The allocation of close to Rs 15,000 crore to JNNURM is a big positive for the heavy commercial vehicle industry, which is currently under severe stress on account of declining sales. With the budget now proposing to use these funds to purchase 10,000 buses, the segment has something to smile about.
The industry is going to benefit from the high demand arising out of the boost given to the construction/infrastructure activities. Large road projects and facilities to first time home buyers, both in urban and rural areas, will benefit the sector.
Stock to watch
Tata Motor, Ashol Leyland, Eicher Motor, Force, M&M, Swaraj Mazda
Outlook
The 2013-14 budget continues to focus on growth in predominantly primary sectors like agriculture, infrastructure and education. Housing industry has also been given a boost.

This growth will in turn support the growth in other sectors including the automobile industry, specially the commercial vehicle sector.