Describing the Union Budget as "balanced and responsible", Corporate Affairs Minister Sachin Pilot on Thurday said the proposals would help the country's economic growth.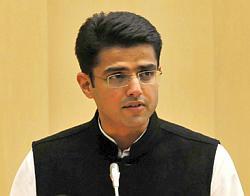 "This is a responsible, balanced Budget looking at getting growth back on track," Pilot told PTI.

Pilot said despite fiscal deficit, the Union Budget for 2013-14 has provided adequate fund allocations for various social sector schemes across areas such as health and education.

The allocations for social sectors have either been maintained or have been increased, he added.

Fiscal deficit for the current fiscal is pegged at 5.2 per cent and is expected to be come down to 4.8 per cent in 2013-14.

Pilot said the focus on manufacturing sector and initiatives aimed at generating more jobs would have "positive ripple effects" on the economy.

Also, the focus on skill development for young men and women in the Budget is a good move, he added.

The Minister hailed the increase in agriculture credit target to Rs 7 lakh crore for the next fiscal from Rs 5.75
lakh crore for the current financial year.
The decision to increase the target would be beneficial for farmers, he said.
With regard to ease of doing business in the country, Pilot said his Ministry along with other counterparts including the Finance Ministry would take steps to eradicate the hurdles.
"We will take measures to ensure that ease of doing business become simpler," the Minister said.
In his Budget speech, Finance Minister P Chidambaram said that all flagship programmes have been fully and adequately funded.