The Madras High Court order for closure of over 700 dyeing and knitting units in Tirupur may trigger huge loan defaults.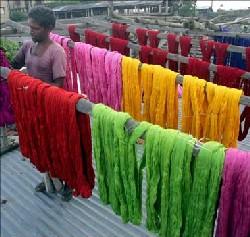 Repayment of loans worth about Rs 20,000 crore would be hit if operations came to a halt, said Tirupur Exporters Association President A Sakthivel.

The court has ordered closure of units discharging effluents in the Noyyal river passing through Tirupur. The court said the units could restart only after attaining zero discharge. Business to the tune of Rs 3,000 crore would be hit, he said.

Last year's Union Budget had earmarked Rs 200 crore for setting up a common effluent treatment plant in Tirupur. A couple of consultants had been engaged for a feasibility study. This might take time, Sakthivel said.

The shutdown may also result in a loss of about Rs 12,000 crore (Rs 120 billion) in foreign exchange as Tirupur tops in knitwear exports and is the number-two exporter of garments in the country.

Several knitwear units running on powerlooms depended on these dyeing units and would also be hit. Over 400,000 workers could lose jobs, said sources in the industry.

Rahul Mehta, the president of the Clothing Manufacturers Association of India, said the ruling could lead to a massive impact on garment exports, already reeling under rising yarn prices and currency fluctuations. He said the government should intervene to save the industry.

However, there is hope as the court has asked all stakeholders to reappear on Monday morning.

The industry is hoping for a re-hearing and some relief. The court is yet to give a written order. The industry is planning to make a plea to the court that the units will try to meet effluent norms if given more time.

Sakthivel said the industry had spent Rs 1,500 crore (Rs 15 billion) to upgrade units to meet pollution norms. Many units were in the process of completing the process, he added.

Any expenditure on effluent treatment will add to costs and hit competitiveness of Indian units via-a-vis products from Bangladesh and Sri Lanka.

This is why many companies in India are averse to investing in green technology.

S P Oswal, the chairman of the Vardhman group, said, "The industry should adhere to the model of sustainable development."

The dyeing units, he said, could relocate to clusters with effluent treatment plants.

North may gain

As North India is a major base for the knitwear and hosiery industry, the court order may benefit the industry there. The business could shift to north, said a Ludhiana-based industrialist.

The director General of the Confederation of Indian Textile Industry, D K Nair, said closure of such large units would affect the entire value chain.

Impact on yarn

While the contribution of Tirupur in knitwear is huge, its consumption of yarn is also high. Bharat Malkan of IB Yarn, a Mumbai-based yarn dealer said, "Yarn prices have been rising. I feel that consumption of yarn needed by hosiery units may fall if Tirupur units are closed."