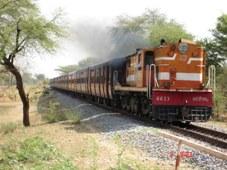 Physically handicapped persons will now be able to get the concession facility in Rajdhani and Shatabadi Trains.
Announcing the extension of concession to this category of people in New Delhi on Friday, the Minister of Railways, Mamata Banerjee, also proposed that in the case of women the age for getting the senior citizens' concession will be reduced to 58 years instead of 60 years; and the concession for senior citizen men has been increased from 30 per cent to 40 per cent.
The Railway Budget also proposes to increase the facility for press correspondents whereby now they will be entitled to avail 50 per cent concession with family twice a year.
The Minister of Railways has also proposed to extend the facility to the Kirti and Shaurya Chakra Awardees of traveling in Rajdhani and Shatabdi trains.
In case of unmarried posthumous Param Vir Chakra and Ashok Chakra Gallantry award winners of armed forces, the Railway Budget for 2011-12 proposes to extend the facility of card passes to the parents.
Source: PIB