Concerned over BSNL's falling revenue and market share, an employee association of the state-owned telecom company has sought a thorough probe into an alleged nexus between senior officials of the PSU and private operators.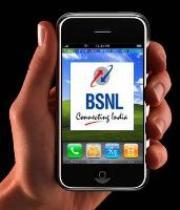 There seems to be a nexus between senior officials of BSNL and private operators, which is stalling its growth, Sanchar Nigam Executive Association said. It has also written a letter to the Cabinet Secretary, seeking a high-level probe into the matter.
SNEA claimed that one of the reasons for the current crisis in BSNL is the fact that a number of officers belonging to the top-level management, involved in taking strategic and critical policy decisions, are on the payroll of service providers and vendors.
BSNL, which operates in all telecom circles except Delhi and Mumbai, has been rapidly losing subscribers to private players.
While private operators have been adding up to three million subscribers every month, BSNL has -- at times -- managed to garner only a million or less. The PSU's revenue has also been severely hit in recent years.
The PSU is all set to report a net loss for the last financial year on a low revenue of about Rs 35,000 crore (Rs 350 billion).
The demand for the probe comes at a time when the government has acted against against two former BSNL officers for taking up jobs with a private telecom company without prior permission.
The government has reduced the pension of the retired senior officers of BSNL, at the level of additional secretary, by 25 per cent for a period of one year. They had taken up commercial employment with Reliance Infocomm -- one after his retirement as director on the BSNL board and the other as CGM UP(E). SNEA also said that the government should adopt more stringent steps against such officials, and even initiate criminal action.
The association also forwarded the letter to Telecom Minister A Raja and senior Department of Telecom officials.