Bosch Rexroth (India) Ltd, part of German automation firm Bosch Group, is expecting completion of its drives and control systems production facility in Sanand, Gujarat, by November or December this year, according to V K Viswanathan, managing director of Bosch Ltd.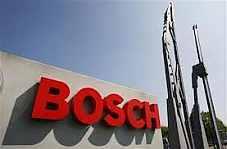 The facility, which would cater products for industrial applications, is coming up with an investment of around 21 million Euros and the production is expected to start by the first three months of year 2013.

Bosch Rexroth, which specialises in drive and control technology, has been producing hydraulic components in Ahmedabad, Gujarat, in a leased facility. The company is planning to shift the operations from the existing plant at Ahmedabad to the new plant, once the works are completed.

"We are coming up with a state-of-the-art production plant in Sanand for drives and Control Systems, for industrial application. Currently Bosch Rexroth has a facility in leased property and we will be shifting it to the new facility. This should be completed by the last quarter of this year," said Viswanathan.

The new plant, which is coming up with a floor area of 37,000 m², would manufacture hydraulic valves, power units and control blocks as well as cylinders, which are used in industrial applications.

The production is expected to start from the first quarter of 2013,
according to the company officials.
The company develops, produces and markets components and systems in more than 80 countries in the technology fields electric drives and controls, industrial hydraulics, mobile hydraulics, linear motion and assembly technology and pneumatics.
By creating value locally, it would increase its market in the country, said the company officials. Bosch Rexroth has been producing hydraulic components in Ahmedabad since 1976, initially in a joint venture.
Bosch Rexroth (India) posted a sales of Rs  611.3 crore in 2011, according to the company website. The company has a customising unit in Bangalore for power units, pneumatic panels ,cabinets and cylinders, cutting and assembly line for linear motion products and sales offices in cities including Ahmedabad, Bangalore, Chennai, Kolkata, Jamshedpur, Mumbai, Pune, New Delhi.
Meanwhile, Bosch Ltd, automotive component manufacturing arm of Bosch Group in India, is expected to invest around Rs  500-600 crore (Rs 5-6 billion) per annum in India as announced earlier, said Viswanathan.
He said that the current grim market conditions has reflected on the company's April-June results, but the company expects a higher growth in coming months, during the festival season, during the last quarter of 2012.