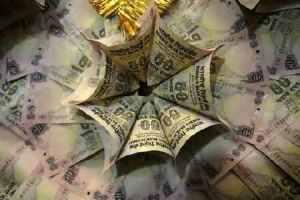 For events separated by time, it's common to search for parallels.
This is exactly what many are doing in the current economic crisis: Growth is at a decadal low, trade and current account deficits are at record highs, fiscal deficit is high and retail inflation is in double digits.

At first glance, India's current economic environment looks similar to that on the eve of the 1991 economic crisis.

However, for all its similarities, the current economic woes are not strictly comparable to the crisis which triggered the 1991 economic reforms.

"Comparing the two would be like treating all fevers the same, even if the underlying infections were different," says Deep Narayan Mukherjee, director, India Ratings. On the eve of the crisis in 1991, India was staring at a sovereign default: Foreign exchange reserves had dwindled to less than two weeks worth of imports.

Then, the government had resorted to draconian measures such as direct import curbs, ultimately mortgaging gold reserves with the Bank of England to raise emergency funds. Now, there is no such risk.

Despite the recent fall in reserves, India's foreign currency assets are enough to cover six months worth of imports.

Also, software exports and other invisible inflows in 2012-13 were equivalent to more than half of India's trade deficit that financial year.

On the eve of the 1991 economic crisis, inflows of invisibles were negligible; these were negative in 1989-90.

This rules out the possibility of a 1991-like economic crisis, when the gross domestic product growth collapsed from a healthy 5.3 per cent in 1990-91 to 1.4 per cent the next.

"In 1991, India faced a drought of capital, as our doors were closed to foreign capital.

"Now, there is no dearth, provided we grow fast enough to enable investors to make money," says Dhananjay Sinha, co-head (institutional research), Emkay Global Financial Services.

"I would describe it as a cyclical slowdown rather than an economic crisis.

India will continue to attract foreign capital," says a senior at a cement company. The company continues to invest in capacity.

This doesn't mean things are hunky-dory.

"Growth is likely to be closer to five per cent in FY14 and things are likely to improve in 2015 or later," says Sinha of Emkay Global.

Returning to nine per cent growth would be a long shot.

The last time the economy expanded at more than nine per cent a year, the boom coincided with global tailwinds.

"From 2004 to 2007, the world GDP grew five per cent a year, a new record; 40 countries broke records in GDP growth," says Mukherjee of India Ratings.

India's savings rate declined from a record of 40.1 per cent in 2007-08 to an eight-year low of 33.1 per cent of the GDP in 2011-12.

The public sector hasn't helped, with the government running a large fiscal deficit.

This has affected the capital expenditure cycle -- the share of the GDP spent on new plants and equipment slumped to 35.1 per cent in 2012-13 from 40.5 per cent in 2007-08.

"The economy and the corporate sector need to go through cutting of debt and improving fixed and operational expenses in real terms, as well as public finance.

This could mean lower growth in the near term, but is necessary to put the economy back on a high-growth trajectory," says Sinha.

According to a report by India Ratings, in the second half of 2012-13, India Inc's wage costs fell for the first time in two years, adjusted for consumer inflation.

The rupee's depreciation cut wages in dollar terms, making Indian goods more competitive in the export market.