After a slew of foreign direct investment (FDI) reforms and measures to revive market sentiments, the government will now come up with a booster dose for the insurance sector, particularly life insurance.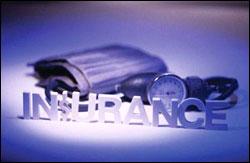 Finance ministry officials had intense deliberations with the Insurance Regulatory and Development Authority (Irda) in the past two weeks. Finance Minister P Chidambaram is likely to meet the insurance regulator on Wednesday. The proposals vary from small procedural issues to raising the FDI limit in the insurance sector to 49 per cent.
Relaxing the investment norms for insurance companies is top of the agenda, to release more funds for the infrastructure sector. Taxation of life insurance policies, revival of unit linked insurance products (Ulips), faster regulatory approval for new products, tax on pension products, open architecture on bancassurance and more relaxed licensing norms are some of the other issues.
"There are issues related to product approval, policy, procedures. All that will be looked into. We are talking to Irda.," said a finance ministry official.
Today, the life insurance sector is second only to banks in mobilising savings. It has an investment corpus of roughly Rs 13 lakh crore but less than a sixth of it goes to the infrastructure sector. The government wants to direct some of the funds for development of infrastructure, which needs about $1 trillion in the next five years.
Irda guidelines allow insurance companies to invest up to 50 per cent of their funds in government securities, 15 per cent in infrastructure bonds, and 35 per cent in corporate bonds and equities. More, they can invest only in the highest rated 'AAA' or 'AA' bonds.
There is also a cap of 20 per cent for investing in equity and debt instruments of one company in the infrastructure sector. An additional five per cent can be invested with board approval.
Insurance companies want Irda to improve commissions for Ulips, which accounted for about 70 per cent of sales in 2008-09. Their share in new business premium fell to 15 per cent in 2011-12 due to regulatory changes and volatile stock markets.
Revival of Ulips could form part of the finance minister's broader strategy to boost stock markets and prepare the ground for divestment of public sector undertakings (PSUs).
The minister has already cleared a proposal to increase the FDI limit in the sector from 26 per cent to 49 per cent. He has sought approval from the law ministry on an amendment to the pending Insurance Bill and might make take this soon to the cabinet. The government, though, does not have the votes to get this passed on its own; it will have to convince some from the opposition parties to help.
Insurance companies are also asking for providing flexibility in minimum assured returns with regard to certain policies. They have also proposed that pension products sold by insurance companies be given the same treatment as the New Pension System. Another issue raised by the companies is that Irda takes at least six months to approve a product.
On September 4, Chidambaram had met top executives of life insurance companies to discuss issues and the sector, and ways to improve insurance penetration. This came within a month after he announced the government would take steps to attract more people to invest in mutual funds, insurance policies and other instruments.
Life insurance penetration in the country is five per cent. In the past two years, the industry saw a severe slowdown, with policy issuances falling eight per cent in 2011-12.
First-year premium collections fell nine per cent to Rs 114,233 crore (Rs 1142.33 billion). In April-July period this year, the sector recorded a 16 per cent jump in new business collection at Rs 31,180 crore (Rs 311.80 billion) but the growth was mainly driven by a 23 per cent rise in sale of new policies by state-run Life Insurance Corporation, while private insurers grew 0.1 per cent.