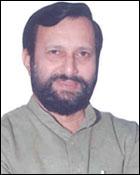 Prakash Javadekar, Rajya Sabha member and spokesman of Bhatiya Janata Party, has described the economic package by the Reserve Bank of India and Union finance ministry as "non-package" that has disappointed the country at large.

Speaking to rediff.com Javadekar that it would neither arrest the slide of the rupee nor will it give a boost to investor confidence. "It has failed to meet the expectations of the investors who were expecting some major policy announcements," he said.

The raising of ECB and foreign investment in government securities along with liberalisation of Witholding Tax are measures that can be described as "Too little, too late", Javadekar said.

Value of rupee is an indication of complete failure of the government to achieve the desired results, he added.
The government is in permanent state of indecision and is suffering from policy paralysis. Inflation and current account deficit has reached unmanageable proportions. It has converted a prosperous economy into crisis. The government should come up with clear road map for infrastructure development.