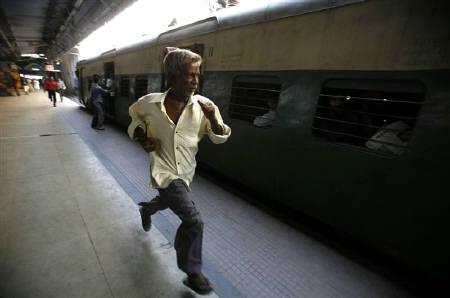 The BJP, Left parties and Trinamool Congress on Wednesday slammed the government for the hike in passenger rail fares and demanded its immediate rollback.
They termed the decision as "anti-people", saying it will further hit the common man already reeling under price rise and inflation.
The parties said instead of raising fares, Railways should have adopted other means to garner additional revenue.
The BJP said the decision to increase rail fares a few weeks ahead of the Budget Session of Parliament clearly exposes the "anti-democratic" face of the UPA government.
"The near 20 percent hike in fares has dealt a big blow to the common man who is already reeling under high inflation," he said, demanding a roll back of the hiked fares.
Terming the decision of rail fare hike as 'unjustified', the CPI(M) Politburo demanded a rollback for non-AC travel.
The party also hit out at Railway Minister Pawan Bansal for showing "contempt" for Parliament by announcing the fare hike "just a month before the Railway Budget is to be placed in Parliament."
The CPI(M) Politburo said the hike in the fares of second class, sleeper and suburban fares was "particularly unjustified as they will burden the ordinary people who are already suffering from all-round price rise."
Trinamool Congress, a former ally of the Congress-led UPA government which held the Railway Ministry before moving out of the alliance, also termed the hike as "anti-people" and "unfortunate" and said its announcement before the budget "bypassed" Parliament.
The Congress however endorsed the sudden decision to hike railway fare saying it was "inevitable".