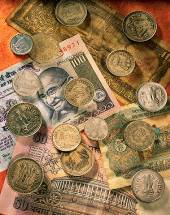 The Aditya Birla Group is pumping in Rs 750 crore (Rs 7.5 billion) more into its financial business in the rest of financial year 2014 to prepare it for a smooth transition to a bank, if the Reserve Bank of India gives it the licence to set up one next year.

Senior company officials said the funds would be used to expand its financial services business in rural India where the group would be opening more branches.

One of Birla's group holding firms, Aditya Birla Nuvo Ltd, has applied for a banking licence with RBI.

There are 25 other companies which have also applied for a banking licence.

The company's financial services business has recorded a revenue of Rs 1,366 crore (Rs 13.66 billion) in the first quarter of this financial year, mainly due to revenues of Rs 895 crore (Rs 8.95 billion) being generated by its life insurance business.

The profit of the financial services business was Rs 220 crore (Rs 2.2 billion) in the first quarter of this year.

Of this, Rs 136 crore (Rs 1.36 billion) was contributed by the life insurance business.

"Once we get the licence, we would be able to launch the bank in the next six months," a top official said, asking not to be named.

"We are ready with all the background work, including talent and software,"
the official said.
The lending book of Aditya Birla Finance doubled to reach Rs 8,400 crore (Rs 84 billion), while the group pumped another tranche of Rs 125 crore (Rs 1.25 billion) into the unit to take its net worth to Rs 1,242 crore (Rs 12.42 billion).
The proposed bank would use the parent's logo which shows a rising sun and uses the Aditya Birla group name.
"We have not taken any final decision on the name of the bank," Sushil Agarwal, the chief financial officer of ABNL said.
Analysts said all big industrial groups like Aditya Birla, Tata Sons, Videocon, L&T, and Reliance Capital -- which had applied for a bank -- met the net worth and capital criteria with ease.
The RBI would have to think deeply before allotting licences to one or two corporate houses and denying it to others, analysts said.
Interestingly, Group Chairman Kumar Mangalam Birla recently resigned from the Board of RBI to avoid any allegations of 'conflict of interest' over ABNL's application.
Group officials said the bank would follow the same traditions of high ethical practices which were synonymous with the Birla group.
The Birlas earlier owned Uco Bank, which was nationalised and was taken over by the Indian government in 1969.