The Aditya Birla group may take a majority 51 per cent stake in Aroon Purie's Living Media, which acts as a holding company and also owns 57.46 per cent in TV Today Network, the listed company that controls the group's broadcasting assets such as Aaj Tak and Headlines Today. It also publishes a host of magazines, including the flagship, India Today.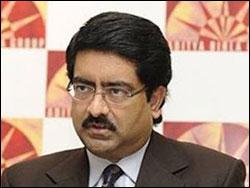 The Aditya Birla group, headed by Kumar Mangalam Birla, had bought 27.5 per cent stake in Living Media in May this year. Sources familiar with the developments said the Aditya Birla group would increase his stake to 51 per cent.
Though both Aditya Birla group and Living Media officials denied any such move, insiders said talks were at an advanced stage. Some even said the deal had already been signed, though that could not be verified.
The funds will be used to help the unlisted Living Media to retire its debt.
According to industry sources, the Aditya Birla group had paid close to Rs 350 crore (Rs 3.5 billion) for 27.5 per cent stake in Living Media in May, thus valuing the company around Rs 1,300-1,400 crore (Rs 13-14 billion).
In a report in June this year, rating agency CRISIL had said Living Media would require funds to reduce its debt and it was making losses due to reduced advertisement income following a general decline in magazine readership.
For the financial year 2011-12, Living Media reported a net loss of Rs 22.45 crore (Rs 224 million) on revenues of Rs 321 crore (Rs 3.21 billion) as compared to a net profit of Rs 14.34 crore (Rs 143 million) on revenues of Rs 355 crore (Rs 3.55 billion) in the previous year. The funds received from the Aditya Birla group were to be used for retiring debt and would benefit Living Media's financial risk profile, CRISIL said.
Birla had earlier said media was a sunrise sector from an investment point of view and he believed Living Media offered one of the best opportunities for growth and value creation.
The Birlas had earlier forayed in the entertainment business and in 2003 launched a movie and television software production company called Applause Entertainment, best known for having produced Hindi film Black, starring Amitabh Bachchan. However, the company was closed in 2009.