The year 2010 started with Viacom18's flagship channel Colors grabbing the number one slot amongst Hindi general entertainment channel (GEC).

Mid-way through the year, however, it relinquished the position to Star Plus, which went up on the gross rating points (GRP) chart with a new look and feel.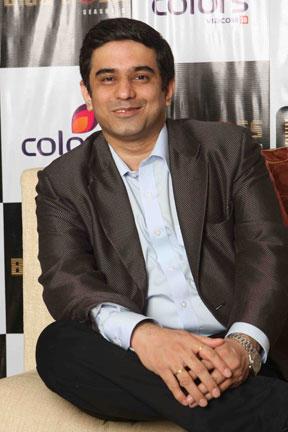 Colors has been unable to regain the top slot even with its star-studded reality shows. But Rajesh Kamat, COO, Viacom18 Group and CEO, Colors, says that the channel has been able to maintain its distinct brand image and will soon be able to move up the rating points.

Colors continues to have the maximum number of big-budget reality shows. Do these lavish investments make business sense?

The way we schedule our programming line up, the emphasis is always higher on the staple diet shows which are the fiction shows.

The return on investment (RoI) of a fiction show is far higher than a non-fiction show. However, the reality shows help in creating a buzz and maintaining the sheen of the brand.

But don't these big-budget shows dent the bottom line?

We don't look at it that way. There is a premium one has to pay for the brand image of the channel.

When a show like Bigg Boss is on air, it is not just the show but also the brand Colors that starts getting talked about. And that is more valuable to us than being concerned about the RoI on a per-rupee basis.

It depends on how you look at it. For example, out of an investment of Rs 100, 75 per cent might deliver a return of 1:X while 25 per cent might deliver a return of 1:Y, but the latter's contribution could be greater to the image of the channel.

As I said, the staple for any GEC is fiction and the RoI is higher in those shows but the reality shows help greatly in the positioning of the channel.

Are these shows profitable?

Yes, we are making profits from these shows. However, it is a lesser percentage profit than in fiction.

Despite that, we would continue with these shows. While advertisers are happy, consumers are also happy since they get some variety on the channel.

We even made profits on Khatron ke Khiladi this year (the show lost money in the first two seasons) because we are also better managing our costs now.

There is a big question mark on the content being aired in such reality shows as the recent I&B ministry order showed. Doesn't this create a confusion as far as brand positioning is concerned? After all, Colors targets all members in a family?

If the question is whether there is a need for self-regulation, the answer is yes. Broadcasters are working in that direction in sync with the I&B ministry.

When you are competing with other GECs like Zee TV and Star Plus and get such an order from the ministry, doesn't it negatively impact the brand?

We are like a food court, so we have offerings for everyone. If you do not like one particular offering you could always switch the channel and then again come back for the programme that you like.

Viacom18 has become synonymous with Colors. There are also three other channels, but there isn't much buzz about them. What's the strategy going forward?

We are looking at expanding from being an operational broadcaster of one channel to a network of channels with a different mix.

We will launch a Hindi movie channel, channels in the regional space and a few more. MTV is doing quite well in the youth space and the music space.

Nick is on and off the number one children's channel. VH1 is in the niche space and is doing fairly well.

What's happening in the distribution space with Network 18's recent deal with Sun TV Network to form Sun18?

The distribution business in India is to the tune of around Rs 20,000 crore (Rs 200 billion), of which broadcasters get only around Rs 3000 to Rs 4000 crore (Rs 30 to 40 billion).

Now that we have control over our distribution, we expect to see a significant upside in our revenues.

And apart from Indian distribution, we are also looking at international distribution. In India, while the share of advertisement to subscription is 80:20, in revenues the share is 50:50.

As we start distributing our own content, we hope to see the share of subscription revenue go up.