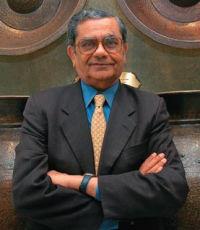 Failure to conclude the Doha round of global trade talks would spell doom for both developed and developing countries.

Instead, a series of bilateral trade deals would dominate global trade, giving more authority to rich countries, resulting in discrimination and perpetuating distortions, says renowned trade economist Jagdish Bhagwati.

Now 77, and a professor at Columbia University, among other distinctions, he was delivering a lecture on the issue in New Delhi.

Organised by the Federation of Indian Chambers of Commerce and Industry, it witnessed attendance by top-level diplomats, academicians, businessmen and the non-government sector. "If we let Doha collapse, we will be overtaken by regional trade agreements and other bilateral arrangements, which will be discriminatory, where the weaker sections would not prosper and hegemonic powers like the Americans and Europeans would establish trade deals with smaller powers and would dominate trade in their own way, which is not possible in a multilateral system," he said.

Developing markets would take a hit, he said, if the World Trade Organisation lost credibility as an institution that monitors development of trade.

The Doha round of securing a multilateral trade deal was initiated in November 2001.

Since then, several round of talks have taken place but all have failed to meet the set deadlines to successfully conclude the round.

Developed countries refused to reduce trade distorting subsidies that would allow poorer countries to export more.

"The interdependence of world economies is much more dramatic now than what it was during the Uruguay round, which took almost eight years to be concluded.

Doha is in the 10th year (of talks) but people are losing faith in it, so there has to be a date beyond which it has to be declared dead," he added.

Consequences

Bhagwati said if WTO's position diminished, then the powers exercised by its disputes settlement body to direct countries to not indulge in
trade distortions would also dim.
"Dilution of WTO as an institution would negate a debt-free stimulus to countries, which otherwise a successful round would provide. The dispute settlement mechanism would come under more strain," he said.
Bhagwati is currently heading a committee with Peter Sutherland, from director-general of WTO, to report on the priority actions needed to be taken to combat protectionism and boost global trade.
It was formed last November by the heads of governments of Germany, Indonesia, the UK and Turkey.
He said India had not done enough to push the US to consider trade as one of their priority sectors and it could have taken the opportunity by joining the committee.
Batting some tough questions by ambassadors and academicians present, Bhagwati asserted that unless the US "moves effectively, it is going to be very difficult (to close the round)".
Adding: "India should come on board (the committee) in pushing the US because countries should hold (to) Doha. If Doha does not work, then the consequences would be disastrous. If the US does not get its act together, we are in fact prescribing homicide."
Referring to the recent resolution of the G-20 countries, Bhagwati said it had been instrumental in setting deadlines and asserting trade as a focus area, but lacked the political consensus to debate issues at great lengths.
He said the G-20 leaders failed to highlight the most important aspect of having a successful multilateral trade deal, which is poverty reduction and use of skilled manpower across the world.
"The G-20 has to distinguish between moving ahead and not falling behind," he said, while answering a specific query on the effectiveness of G20.
"The grouping had set a deadline of 2011 as the 'last window of opportunity' to wrap up the Doha round.
Bhagwati also indicated the US Congress might soon be bringing back the fast-track authority for its trade negotiators to conclude the Doha round by this year.
The mechanism allows the US legislature to approve or reject a negotiated trade deal, but not to amend it.