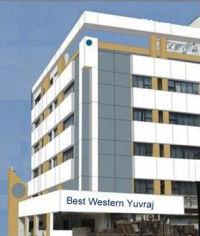 International hospitality chain Best Western today said it plans to operate 100 hotels in India by 2017, up from the current count of 18 properties in the country.
"The long-term plan is that in the next seven years we want to operate 100 hotels in India aggregating to about 10,000 rooms," said Best Western India President and COO Sudhir Sinha.
Out of the total 100 hotels planned, 50 per cent will be in the budget segment, while the remaining will be a mix of mid and premium segment properties, said Sinha.
The company is also in process of launching its third brand - Best Western Plus - in India, to add to the two existing brands Best Western and Best Western Premier. While the Best Western Plus will cater to the mid-segment, Best Western is in the budget segment and Best Western Premier taps the upper end of the spectrum.
Across the three brands, the average room rate varies between Rs. 2,500 per room per night to Rs. 25,000 per room per night.
Best Western International had appointed Cabana Hotels as the master franchise in India in 2007 to operate properties under the Best Western brands.
"We are looking to upgrade a few of the existing hotels that are currently operating under the Best Western label, which is the core brand," said Sinha.
The company currently operates 18 hotels in India under Best Western. It has already signed up for another 11 hotels which are at different stages of completion.
"The hotels that have been already signed will start opening in the next three months to two years time," he added.
In India the company is currently operating 1,000 rooms, with average room revenue of Rs. 3,800 per night.
"The average occupancy is around 70-75 per cent," said Sinha.
Globally Best Western International, founded in 1946 by a California-based hotelier M K Guertin, operates over 4,000 hotels in more than 90 countries.