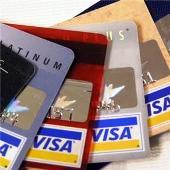 Banks may need more time to comply with the Reserve Bank of India's mandate of replacing all debit and credit cards that have been used for international transactions with new ones.

The deadline expires on June 30, 2013 and according to bankers, more than 50 per cent of the cards used overseas are yet to be replaced.

Deutsche Bank estimates out of 320 million debit cards in the country around five million have been used for international transactions. However, banks have changed only two million cards so far.

"Some banks may find it difficult to meet the deadline.

"The task involved is enormous, banks have to develop a new platform, test it thoroughly, create new chip-based cards and segregate cards that have been used overseas.

"In some banks, this process has just started and it will be difficult for them to meet the deadline," said Rajiv Rai, chief operating officer for private and business clients at Deutsche Bank in India.

According to bankers, majority of credit cards used abroad have also not been replaced so far.

They estimate out of 19 million credit cards in India, around two-three million cards have been used overseas.

The multiplicity of frauds involving debit and credit cards persuaded RBI to direct banks to convert all existing magnetic stripe cards that have been used abroad to EMV chip cards.

It is believed EMV chip cards offer better security to cardholders as they are nearly
impossible for fraudsters to decode.
However, these cards are more expensive than magnetic stripe cards.
While a magnetic stripe card costs around Rs 30-50, a chip-based card costs around Rs 100-150.
Banks will also need to incur additional cost for delivering the new cards to customers.
"The EMV chip cards are more expensive, but they have added security features.
"The re-carding process will ultimately benefit customers," said Mahesh Dayani, country head for retail assets at ING Vysya Bank.
The additional cost, bankers said, is likely to be borne by cardholders.
Some banks are considering a hike in annual fees and usage charges to offset the replacement cost.
"RBI, after reviewing the security aspect, decided to replace the cards that have been used internationally.
"While chip-based cards cost more than the traditional magnetic stripe cards, they provide greater security.
"Banks are likely to recover a part of the cost from the customers," said Shubhalakshmi Panse, chairperson and managing director of Allahabad Bank.
Bankers also said the re-carding process may lead to a short-term blip in card transaction volumes.
"In all probability, there will be some disruption in the short term.
"There will be issues like cards not reaching to customers or new PINs not getting generated.
"These events will lead to a decline in transaction volumes. But it will be only for a short period of time," said a senior banker with a foreign bank in India.