Banks and unions today settled on a 17.5 per cent hike in the salary of 702,000 public sector employees, besides agreeing to make 332,000 serving and retired employees eligible for pension. State Bank of India employees' association representatives, however, walked out of the wage settlement.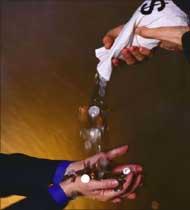 According to the decision taken, while the wage hike, effective from November 2007, would cost an additional Rs 4,816 crore (Rs 48.16 billion) annually, the pension scheme would result in an outgo of Rs 6,000 crore (Rs 60 billion).
"Of the gap (Rs 6,000 crore), 70 per cent cost (Rs 4,200 crore or Rs 42 billion) will be borne by banks, while the remaining 30 per cent will be borne by the employees," Indian Banks' Association chairman M V Nair told Business Standard after signing the deal.
Nair, who is also the chairman and managing director of Union Bank of India, said that unions had agreed to banks' outsourcing of some of the tasks. "Banks have also agreed to streamline the allowances for workmen," he added. IBA would thrash out the details of the increase over the next 90 days. The hike would cost Rs 2,232 crore (Rs 22.32 billion) to meet the additional salary for officers, while Rs 2,584 crore (Rs 25.84 billion) would have to be set aside for workers. Bank chiefs said there would not be an additional burden as the higher pay and pension benefit had been factored in and provided for.
The total burden on commercial banks is estimated at Rs 25,000 crore (Rs 250 billion) for the agreement period. The annual profit of listed public sector banks in 2008-09 was Rs 32,530 crore (Rs 325.3 billion).
This is the second pension option for public sector banks and would cover 272,000 serving employees and 60,000 employees who did not opt for the scheme in 1993 and have since retired.
Those who join public sector banks from April 2010 would be covered by the New Pension Scheme with 10 per cent of their basic salary and dearness allowance deducted as their contribution. Banks would make a matching contribution.
Representatives of SBI employees unions walked out of the deal saying their interests were not protected. But with the United Federation of Banking Unions, the body that represented nine employees associations, signing the minutes of the meeting, the deal is said to have been clinched. Now SBI employees would have to negotiate with the management to ensure that their interests are protected.
Two SBI union representatives - S A Kadri, General Secretary of National Confederation on Bank Employees and G D Nadaf, General Secretary of All India State Bank of India Officers Association - refused to sign the minutes of the meeting. While Kadri, who is also the general secretary of All India State Bank of India Staff Federation, told Business Standard that the future course of action would be decided on Tuesday.
When contacted, Nadaf said that of the proposed 17.5 per cent hike, 4-5 per cent would go towards paying pension expenses of other bank employees. "This is not beneficial to SBI officers as well as employees. It reduces the effective rise in wages to us. Hence, SBI unions decided not to be party to the memorandum."
Kadri said that union representatives had met SBI Chairman O P Bhatt in the evening and "his response was positive". Bhatt could not be reached for comment but sources privy to the wage negotiations said that the SBI union representatives had raised the demand for revision of their pension benefits only a few days before the settlement.
"We could not accommodate their demand as it would have delayed the process for everyone," said the source.
With public sector bank employees eligible to receive a defined benefit pension equivalent to 50 per cent of their last salary drawn, SBI unions said they were at a disadvantage since they only received 40 per cent of the last salary drawn in the form of pension.
Other banks, however, pointed out that apart from the pension benefit SBI employees were eligible for provident fund and gratuity, which was not available to the employees of the six State Bank associates.