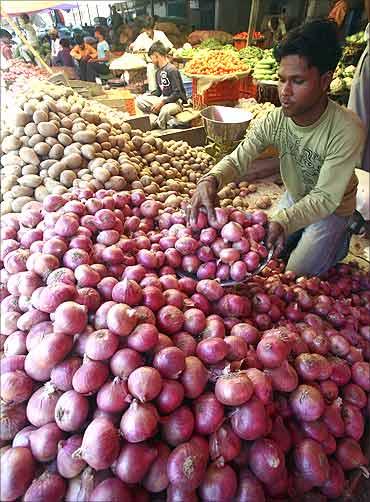 Days after onion prices crashed by almost 56 per cent in the wholesale markets, the Centre lifted the ban on exports of a certain variety grown in Karnataka and allowed exports of 150,000 tonnes of select varieties of non-basmati rice.
"Limited exports of three rice varieties, sona masuri, ponni samba and rose matta, which are largely consumed locally, but have good demand from the Indian dispora have been allowed as their domestic production was good," Commerce Minister Anand Sharma told reporters after a meeting of the Empowered Group of Ministers on food.
The varieties are largely grown in Tamil Nadu, Kerala, Andhra Pradesh and Karnataka. Export ban on the other varieties of non-basmati rice continues, said Sharma. The exports should support a minimum price of $850 per metric tonne.
India had banned exports of non-basmati rice in 2008 to tame surging inflation. Onion exports were banned in December after prices surged across the country following damage to the standing crop in large parts of Maharashtra - the country's biggest onion producing state - following unseasonal rains. The ban on the rose variety of onions grown in Karnataka was lifted.
"Prices of onions have crashed in the wholesale markets of Nashik, the country's biggest market for the commodity, prompting farmers to take to the streets as they could not recover their cost of production, hence we should allow some exports after maintaining a quantitive restriction," said Agriculture Minister Sharad Pawar before the meeting.
Pawar said the food ministry has been directed to prepare a full report on onion demand and supply within the country before taking a final decision on fully lifting the ban on exports of all varieties of onions.
The EGoM on Food, headed by Finance Minister Pranab Mukherjee, includes Agriculture Minister Sharad Pawar, Planning Commission Deputy Chairman Montek Singh Ahluwalia, Rural Development Minister Vilasrao Deshmukh and Food Minister K V Thomas.