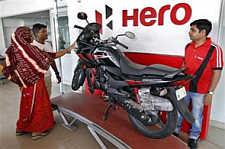 Hardening its stance against threat of strike by workers at its Gurgaon plant, country's largest two-wheeler maker Hero MotoCorp said it will not "accept any indiscipline".
The company, which started work on Hero Centre of Global Innovation and Research and Design with an investment of Rs 450 crore (Rs 4.5 billion), said it expects to sort out the issue at the Gurgaon plant "very quickly".
Last week Hero MotoCorp Workers Union had threatened to go on strike at the Gurgaon plant against 'police action' on some workers, who have been alleged by the management of assaulting supervisors in the shop floor of the plant.
"The issue has come because of indiscipline and insubordination and the workers taking law into their own hands. This is not at all acceptable to any management and not just Hero management," Hero MotoCorp Managing Director and CEO Pawan Munjal said.
Stressing that workers have to "maintain discipline", he said: "We as a company have been looking after all our stakeholders, especially the ones in the plant extremely well. We are probably the best pay masters and we will not accept any indiscipline."
Ruling out a prolonged tussle with workers, Munjal said: "I believe this will get sorted out very quickly. These people who are involved in insubordination should also realise that it is also going to impact their livelihood as well. It's not just about impacting the company, it is also going to impact them."
Commenting on the new R&D centre, he said: "We are investing Rs 450 crore in the centre at Kukas, with plans to commence operations by first quarter of calender year 2015."
He further said the company is in the process of investing Rs 1,300 crore (Rs 13 billion) in three projects in Rajasthan.
Apart from the R&D centre, the firm is setting up a manufacturing plant and a global parts centre at Neemrana, both of which will start operations in the first quarter of 2O14.
"We would be providing direct employment to about 3,500 people in these three facilities," Munjal said, adding the current R&D centres at Gurgaon and Daruhera plants would be shifted once the R&D centre here became operational.
He said the Kukas centre will employ 6OO engineers and support staff and the company will hire "the best of global talent to build a truly multi-cultural, multinational set up".
The centre would develop models for both domestic and international markets. Currently, the company is investing 2-3 per cent of of its revenues on R&D.
In June last year, the company had announced a total investment of Rs 2,500 crore (Rs 25 billion) to ramp up capacity and R&D prowess, including Rs 400 crore (Rs 4 billion) on its fourth plant at Neemrana in Rajasthan and Rs 1,100 crore (Rs 11 billion) on fifth plant in Gujarat.
When asked on the festive season sales expectations, Munjal said: "I continue to remain bullish on festival season. Good monsoon has helped in improving the overall sentiment but various other issues like high interest rates still continue to affect the market sentiment."
Between September and March 2014, Hero MotoCorp will launch more than a dozen models of motorcycles and scooters, Munjal said.