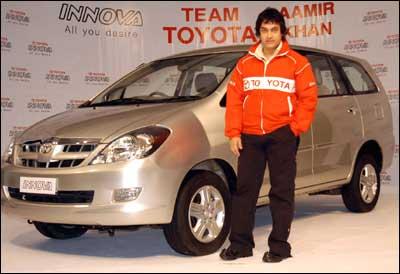 Toyota Kirloskar Motor employees launched an indefinite hunger strike in front of the main gate of the company's car factory at Bidadi, about 35 km from Bengaluru.

Two office-bearers of the Toyota Kirloskar Motor Employees Union and eight other employees are staging the strike. Simultaneously, about 1,000 employees, registered with the TKMEU, staged a dharna at the factory gate from 10 am to 6 pm on Wednesday.

They would stage the dharna on Thursday also, sources said.

The company had lifted a week-long lockout at its car manufacturing plants on March 24 and asked the agitators to give a 'good conduct' undertaking before returning to the work.

But, the employees had rejected the order.

"We have intensified our agitation to press for our demands.

"The management is very adamant and not considering our genuine demands.

"We are ready to return to work, provided the company relaxes the condition of signing an undertaking from us.

"They should also withdraw the suspension of 30 workers.

"We have told them that the negotiation for a wage renewal can be resumed at a later stage," said R Satish, general secretary, TKMEU.

However, the management has continued with the policy of limited production of cars with the help of supervisors, engineers, contract workers and apprentices.

About 240 union members had reportedly given the undertaking and returned to the work.

According to sources, TKMEU office-bearers were stopping employees from reporting to work.

"This is untrue.

"We have not prevented anyone from going to work.

"In fact, none of our members have reported for duty.

"The management is trying to confuse our members.

"They are continuing the production with apprentices, contract workers and trainees," Satish said.

Meanwhile, the management has sent letters to families of employees, requesting their parents to convince their sons and send them to work.

"In the letters, the company had explained the facilities the company had offered to its employees.

The company has been unable to meet demand.

Toyota dealers have run out of stock and don't have products for display in their showrooms.
Image: Actor Aamir Khan with Toyota Innova; Photograph: Arun Patil