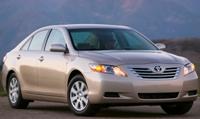 It is a market which every automobile major is eyeing.
The hatchback market in India, which is growing at 35 per cent annually, has quite a few superstars -- Maruti Suzuki's Swift, Hyundai i20, Volkswagen's Polo, the Skoda fabia and Ford's Figo.
Just three months from now, they will be joined by Etios (which means spirit in Greek) from Toyota, the big brother of automobile quality. Etis is expected to be priced lower than Suzuki Swift. And music maestro A R Rehman will most likely add to the crescendo for Toyota's new spirit.
Toyota has good enough reasons to enter the segment. Out of the total 2.7 million cars expected to be sold during 2010-11, as many as 900,000 are expected to be in this segment, accounting for a whopping 30 per cent.
But has Toyota joined the party a bit too late? The company sees it as a late mover advantage.
"We have studied the market extensively and the product is being fine-tuned after in-depth feedback from the consumers.
"We are set for the launch during December 2010 and are looking at selling 64,000 units during the first year itself," says Sandeep Singh, deputy managing director (marketing), Toyota Kirloskar Motors, the Indian joint venture for Toyota with Kirloskar Group.
To kickstart its entry into the mass-market segment, Toyota is wooing Bharat like never before. "People in Indian metros are pretty well versed with Toyota. However, it's not the same when we meet people in Tier 2 & 3 towns. We needed to address this issue," Singh says.
After showcasing the concept car at 24 locations across the country, Toyota has just launched a corporate advertising campaign to talk about its quality revolution, in all Indian languages.
Post the promotions, from around October 2010, Toyota will be launching a 360-degree multimedia campaign about Etios followed by a product launch campaign during December.
Toyota will be debuting both hatchback and sedan under the Etios series with 1.2 litres and 1.5 litres petrol engines, respectively.
"At 24 locations, we have already touched bas with 200,000 potential customers. Many of them have shown a desire to buy the new car. They have given us very good inputs about the colour, features, leg space and boot space. We have fine-tuned the car based on their feedback," he said.
Singh though is non-committal about the industry buzz that A R Rahman has been roped in as the brand ambassador for Etios.
"We are still in discussion on the possibility of roping in a brand ambassador for the new product. The management would decide on this by the end of September or early October," is all he will comment.
Toyota has also done some dipstick studies and got customers' feedback. The main objective is to generate customer interest for Etios.
The company has given an Indian touch to the name by putting bindi on the 'i' in Etios. It has been developing the model for the last four years with the help of over 2,000 engineers from its Indian and Japanese operations. Presently, 150 Indian engineers are stationed in Japan to work on the model.
Singh says Etios is purely meant for Indian customers. It is specially designed for the Indian roads.
Toyota Kirloskar is investing about Rs 3,200 crore (Rs 32 billion) to set up its second manufacturing facility in Bangalore to roll out the car with an installed capacity of 70,000 units which will be ramped up to 100,000 units in the second year.
With the launch of Etios early next year, Toyota aims to double its sales in India.
The total sales target for 2011 is set at 140,000 units, which includes all models. The company also plans to export Etios after about a year from India when it may also consider the diesel version.
"We, from the Indian subsidiary, have strongly recommended introduction of diesel version which our parent is studying," Singh says.
The production of the small car would start by December this year and would be available for sale from January 2011, he said, but declined to give details whether the first one would be a hatchback or a sedan.
The company plans to expand dealership to 150 by the end of 2010 from the existing 107.
Toyota reported over seven per cent growth in sales in the country last year at 55,497 units and is expecting a jump of 15-20 per cent in 2010.