Amid a move by the government to form a policy to allow quadricycles on Indian roads, auto major Tata Motors has hit out at it terming it as a backward step.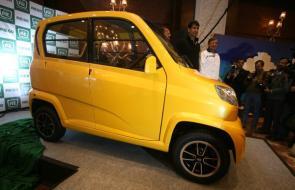 "Why? The Govt.+ industry (sic) have been accelerating efforts in traffic safety & environment, now we consider Quadracycle (sic)! Why go backwards?" Tata Motors Managing Director Karl Slym tweeted.

A committee headed by Director of the International Centre for Automotive Technology (ICAT) Dinesh Tyagi is to submit its report to the Ministry of Road Transport & Highways for forming a policy on quadricycles.

Sources in the ministry said opinion is divided even among the officials on how to move forward on the issue.

"It is, however, more or less unanimous that the safety and emission standards must be equivalent to European norms for quadricycle," an official source said.

Bajaj Auto Ltd (BAL) has been pushing for allowing creation of a new class of four-wheelers or quadricycles so that it can commercially launch its RE60, which the company is trying to position as an intra-city passenger transportation vehicle targeting the auto-rickshaw
segment.
BAL had last year unveiled the RE60, which is powered by a 200 cc petrol engine with a top speed of 70 kilometre per hour (kmph) and with a mileage of 35 kilometre per litre (kmpl).
However, not all in the auto industry has been enthused with such a product and cited safety issue as a main concern.
While RE60 does not qualify as a car at present, Tata Motors' Nano, powered by a 624 cc petrol engine, is being sold as a small car that meets all the criteria of a car.
The Tatas had launched the Nano in 2009 for an ex-factory price of Rs 100,000, which is touted to be the cheapest for any car in the world.
At the time of launch, Tata Motors had claimed that Nano would give a mileage of 23.6 kmpl and can touch a maximum speed of 105 kmph.