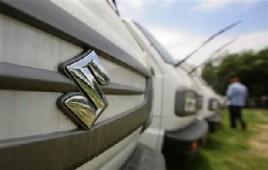 Maruti Suzuki India on Friday said its plant Manesar will remain closed for the second day after the violence on Wednesday in which one senior company official was killed.

"The plant will remain closed today," a company spokesperson said.

Leaders of Maruti Suzuki Workers Union could not be contacted for their comments on future course of action.

A worker source, however, said many of them are staying away from their respective places fearing that they could be arrested.

"It is difficult to say now what we will do. We are also unable to contact our union leaders," the worker said.

The company stated on Wednesday that it was "still assessing the total damage to property and facilities from the acts of arson.

"What is clear is that the office facilities have been burnt beyond repair, as have the main gate, security office and the fire safety section."

"We will shortly
announce our decision on the next steps with regard to resuming operations in these facilities," the company had said.
Haryana Police had secured the plant and about 1,300 policemen have been deployed.
On Wednesday, 91 employees, who were arrested, were produced before a local magistrate who remanded them to 14 days judicial custody.
They have been accused of various charges, including rioting with weapons, murder, attempt to murder, unlawful assembly, assault and trespass.
Awanish Kumar Dev, HR GM, was burnt beyond recognition while 100 others were injured during the violence. Kumar's body was identified yesterday by his family and the company alleged that the violence was an orchestrated act of mob, which has implications beyond one company or region.
Taking a serious view of the violence, Haryana chief secretary P K Chaudhery had said a special investigating team has been formed under Assistant Commissioner of Police, Gurgaon, Ravinder Tomar, to investigate the matter.