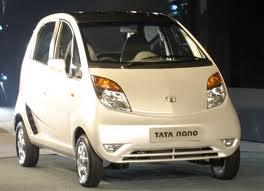 Muted sales of the Nano aren't a concern for Tata Motors alone but also for its vendors, especially those who relocated from Singur to Sanand.

When the company decided to relocate the plant to Sanand in Gujarat, following protests at Singur, vendors had requested the company compensate them.

According to the compensation package chalked out by Tata Motors, some of the smaller vendors were paid lump sums.

A formula linked to Nano despatches was worked out for the bigger ones.

"The loss per car was calculated on the basis of the projected installed capacity at Singur and the payout was linked to despatches.

"Now, with the despatches nowhere close to projections, we are being paid in hundreds," a vendor said.

Before Tate Motors' pullout from Singur, 13 vendors had constructed plant buildings in the region, while 17 others were at various stages of construction.

Together, the vendors had invested Rs 338 crore (Rs 3.38 billion) at the site.

Tata Motors didn't comment on the details of the compensation formula.

"Tata Motors remains committed to building long-term, mutually rewarding sustainable relationships with its vendors.

We have always stood by our vendors in difficult times in an exemplary manner,
as was seen during the transition from Singur to Sanand, and will continue to work closely with them in challenging times.
We continue to explore the best possible ways to optimise utilisation in our manufacturing plants that would offer a win-win for all of our stakeholders, including vendors.
We cannot, of course, discuss the specifics of vendor agreements due to issues of confidentiality," the company said.
The installed capacity of the Sanand plant was scheduled to be 250,000 units a year, or about 20,000 a month.
However, according to company data, in July, Nano sales stood at 8,546, while cumulative sales were 36,019. Payouts aren't the only problem for vendors.
For them, lower volumes translate to a lower recovery.
"We followed Tata Motors and set up the plant in Sanand. If Tata Motors is unable to sell the number it had projected, we are bound to be affected," a vendor said.
Some vendors are pinning their hopes on alternative solutions.
"I hear Tata Motors is planning to use the Sanand plant for other products.
"As vendors, we are expecting Nano sales to improve.
Besides, we are trying to rope in more players such as Mahindra for supplying auto parts.
We would like to see our Sanand unit as a supplier to auto parts to the entire western region," said Surinder Kapur, chairman and managing director of Sona Koyo.