To merge arms, sell stake in combined entity to CIE for Rs 770 cr; to use proceeds to buy 13.5% in Spanish firm for Rs 740 cr

Tractor and utility vehicle major Mahindra & Mahindra (M&M) has entered into a share-swap arrangement with Spain's CIE Automotive to create a global auto component manufacturer.

The Mumbai-based firm has agreed to merge its five listed and unlisted subsidiaries and later sell a stake in the combined entity to CIE Automotive for euro 100 million (Rs 770 crore). In exchange, using the proceeds, M&M will buy 13.5 per cent in CIE for euro 96.24 million (Rs 740 crore). M&M hopes the multi-structured deal, after regulatory approvals, will be completed in 12-14 months.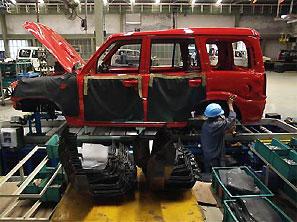 Mahindra Forgings, Mahindra Ugine Steel, Mahindra Composites, Mahindra Hinoday Industries (unlisted) and Mahindra Gears (unlisted) will be the participating companies in this deal, while the engineering, aerospace and steel businesses will be excluded from the process.

While M&M will cede control of the merged entity (to be named Mahindra CIE Automotive) to the Spanish firm, the agreement will see the formation of a global automotive component supply network with a combined annual sales of about Rs 15,000 crore. This will be among the top 25 companies in the space globally. CIE will own 46-52 per cent in Mahindra CIE Automotive, while M&M will hold about 20 per cent. CIE will bring an open offer of about euro 10-15 million (Rs 77-115 crore).

Mahindra CIE Automotive, in which CIE's forging business in Spain and Lithuania will also be merged, will have a board of 14 directors — three from M&M,
four from CIE and seven independent.
In return, M&M will get two board seats in CIE Automotive which will be taken by Mahindra Systech President Hemant Luthra and Mahindra & Mahindra Group CIO and Executive Vice-President V S Parthasarathy. With its 13.5 per cent stake, M&M will become the second-largest shareholder in the Spanish company.
Mahindra's auto component business (internally called Mahindra Systech), which has operations spread in India, UK, Italy and Germany, posted a turnover of Rs 4,000 crore last financial year.
CIE's revenue in calendar year 2012 stood at euro 1,647 million (Rs 12,700 crore). Besides forgings, the company has segments like castings, composites, stampings and roof systems and it caters to Europe, China, Russia, Morocco and Nafta markets.
M&M Chairman Anand Mahindra said: "Eight years ago, we set out to build an Indian automotive supplier with a global footprint and this drove us to a series of acquisitions in India and Europe. Our customers have asked us to step up globalisation efforts and follow those around the world. This alliance with CIE extends our reach into new geographies and will help us grow our collective product portfolio in the coming years."
For CIE, the deal will not only give it entry into India but also Mahindra Systech's ready-made clientele, which includes Tata Motors, Maruti Suzuki, Hyundai and Mahindra. "We aim to become the leader in the forgings business globally," said CIE Automotive Chairman Antonio Pradera.
Mahindra, on the other hand, through CIE, gets to tap into the passenger vehicle companies of Europe, where it was so far servicing only the commercial vehicle firms.