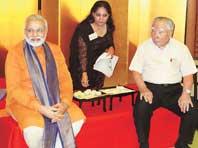 Suzuki Motor Chairman Osamu Suzuki on Thursday visited two of its India plants - a two-wheeler manufacturing facility and a car plant in Gurgaon - in his first trip to the country after the violence broke out at its another plant in Manesar last month.
Suzuki, who arrived in India on Wednesday on a week-long visit, is yet to visit the Manesar plant. He entered Gurgaon under police protection.
While the company officials were tight-lipped about Suzuki's schedule, employee union leaders of two-wheeler plant of Suzuki Motorcycle India Pvt Ltd at Kherka Daula here said he only held meetings with the management and did not meet workers and their representatives.
Union leaders of Gurgaon car plant of Maruti Suzuki India said that Suzuki would be meeting them later this evening and they would raise with him the issue of Manesar incident, including the sacking of 500 workers after violence.
On August 21, Maruti Suzuki India (MSI) reopened its Manesar plant amid heavy security, a month after the lockout was declared following the violence in which one senior company official was killed and 100 others injured. The company has sacked 500 permanent workers, who were allegedly found to be involved in violence inside the plant.
"Mr Suzuki visited plant in morning and held discussion with management. Though we expected that he would meet workers and union, but he did not. He came here for a very brief period," Suzuki Motorcycle India Employee Union President Anil Kumar told PTI.
Suzuki was accompanied by Maruti Suzuki India (MSI) Managing Director and CEO Shinzo Nakanishi. MSI is subsidiary of Japan's Suzuki Motor Corp (SMC).
Later in afternoon, Suzuki visited MSI's Gurgaon plant. "Mr Suzuki has just came inside the plant. He will be here till evening. The union will have a meeting with him at 4 pm today. We will discuss various issues with him. We will request him to revise our wages which is very necessary in the current inflationary scenario," Maruti Udyog Kamgar Union (MUKU) General Secretary Kuldeep Jhangu told PTI.
"We will also discuss the sacking of 500 workers at Manesar plant and request him to consider their reinstatement," he added.
MUKU, the union of Gurgaon car plant, has also been opposing the sacking of the workers. During his India visit, Suzuki is also said to be meeting Haryana Chief Minister Bhupinder Singh Hooda and Gujarat Chief Minister Narendra Modi and would attend the Annual General Meeting of MSI on August 28.