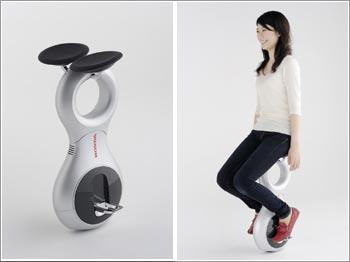 If Honda has its way, then pavements across the globe will soon be the domain of U3-X, the world's first 'mechatronic' unicycle.
According to a report in The Times, Honda's creation, a decade in the making, restores Japan's reputation as the most fanatical of mad inventors.
The thousands of tiny movements the human hand instinctively makes to keep the broom upright are simulated in the U3-X by a lattice of motion sensors and Honda's new omni-directional wheel.
The new Honda drive system can do all sorts of useful things ordinary wheels cannot, such as moving sideways.
The compact electric personal mobility device fits between the rider's legs to provide movement forward, backward, side-to-side, and diagonally. It is made to easily use, carry, or store.
The 10-kg unicycle's most spectacular feat is that it can stand upright on its own.
The unicycle has a foldable seat and footrests - and a body that functions as the frame in which users can retract the various components.
When unfurled, riders jump on and go - adjusting speed and motion by simply shifting weight.
Taken off its charging stand and held in the starting position for a few seconds, the U3-X quivers to life. It will not fall over as long as its batteries last.
Even while in motion, the unicycle is nearly impossible to topple and makes no balancing demands.
The driver merely leans the torso in the desired direction of travel and the single wheel compensates improbably for the shifting weight of its master, rumbling off with a puny electric whirr.
The machine is far more portable than a fold-up bicycle and takes up no more pavement space than a pedestrian.
According to Shinichiro Kobashi, an engineer, one day, polo matches will be played on these machines.
For the moment, though, any match would be a slow one. Honda has limited the unicycle to a maximum speed of 4mph (6km/h) - a speed at which it makes considerably more sense to walk.