Japanese car maker Honda is exploring the possibility to foray into the multi-purpose vehicle (MPV) segment in India, a top company official said on Monday.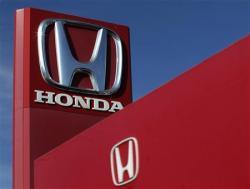 "Honda is mulling a seven-seater multi-purpose vehicle. And we are, at this moment, studying the market whether we have to launch it or not...," Honda Cars India Senior Vice-President (Sales and Marketing) Jnaneswar Sen told reporters in Chennai.

He further said, "See, to have a product, we must meet all the conditions - what are people looking for, style, space. So we have to match everything. We actually decide whether we can actually bring it or not. That's the study we are doing now."

"We are looking at two options - one it is a seven-seater multi-purpose vehicle and the other is of course, compact sports utility vehicle. That concept has already been developed and it has been displayed at Detroit Motor Show in January this year," he added.

Asked whether people were shifting towards petrol car as diesel prices have been constantly increasing in the past, he said, "we hear from the industry, that there is a slight shift (on preference to petrol cars from diesel)".

To a query on whether it was possible to launch diesel variants of the company's existing models including - Brio, City using the same 1.5-litre diesel engine, Sen said, "This engine will not be fitted in any of our current models. It will be
only for our new models. When City was designed, it was designed to carry a petrol engine. The cost of modification for diesel engine is fairly high...So, we decided not to."
Sen, who launched the company's mid-size sedan Amaze, said, "with the launch of Amaze we are entering into a new segment, which we were not present all these years."
It is priced between Rs 504,000 (ex-showroom Chennai) for entry-level petrol and Rs 768,000 (ex-showroom Chennai) for top-end diesel variant.
"The other big significance of the launch of Amaze is, it comes with Diesel engine. Whenever (in future) we launch new models, they may carry this (diesel) engine as well," he said.
Noting that the company since its nationwide launch of Amaze has got good response, he said, the company may retail about 4,000 to 5,000 due to capacity constraints at its manufacturing facility.
To a query, he said the company would also expand its presence to 102 cities by this financial year compared to the existing 97 cities.
"At this moment we are present in 97 cities. So tier I and II are of course completely covered. Our focus is to go further down across 100 cities soon within this year," he said, adding the company would focus on sales of Amaze in the domestic market.
"Unlike many other companies, our opportunity to exports is not huge. I think Honda has about 150 factories across the world. For time being no specific plans (on exports), we are going to focus on domestic market," he said.