German commercial vehicle maker Daimler will set up a bus manufacturing facility at Oragadam near Chennai at an investment Rs 425 crore to tap the potential offered by the Indian market, second only to China.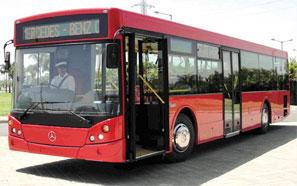 "The biggest bus market in the world is China. India is half that size and ranks No 2. And that offers huge potential for us," Daimler AG, Board Member, responsible for Daimler Trucks and Buses, Dr Wolfgang Bernhard said.
He was speaking to reporters after unveiling the foundation stone for setting up the bus plant.
The company has a truck manufacturing facility spread over 400s acre at Oragadam, about 45 kms from here, set up at an investment of Rs 4,400 crore. It produces Bharat Benz range of trucks for domestic market and 'FUSO' brand for exports.
The proposed bus plant would come up in the existing plant campus itself on a 27.91 acre site and would manufacture front engine -- school and staff buses-- under Bharat Benz brand and rear-engine intercity luxury segment buses under Mercedes Benz.
"We believe in India. We believe the growth story of India is intact with all those (sluggish market) hiccups we have now. On the long-term India can grow at 6 per cent," he said.
From the new facility, buses would be rolled out from the second quarter of 2015 and Bharat Benz buses would be made from chassis of Bharat Benz trucks while parts for the Mercedes Benz buses would be sourced from Brazil initially and manufactured in the plant.
Daimler India Commercial Vehicles has partnered with global bus body manufacturer Wrightbus who will set up a bus body building facility inside the plant at Oragadam.
"We are investing Euro 50 million (Rs 425 crore). Our new buses will benefit from the synergies of Bharat Benz which is the local suppliers, distribution partners," Bernhard said.
"Bharat Benz trucks will provide the chassis for Bharat Benz buses. Mercedes Benz new chassis will be built here. It is a win-win for our bus customers in India," Daimer Buses (head) and EvoBus GmbH, CEO, Hartmut Schick said.
"We do not have to start from scratch. We have Bharat Benz brand in India. We entered in the market 18 months ago. In a bit more than a year from now, the new bus plant will be ready to produce quality buses. It will be Made in India, Made for India buses," Bernhard said.
Initially, the bus plant will roll out about 1,500 units which would be expanded to 4,000 units, he said.
Declining to reveal about the "localisation" level of the buses, he said the buses will offer high standard of safety and high fuel efficiency.
"Wrightbus will also invest to set up a bus body manufacturing facility. India is going to be export hub for buses as well," he said, adding the company exports chassis to Africa and other Asian markets.
Responding to a query, Daimler India Commercial Vehicle, managing director and CEO, Marc Llistosella clarified that the Pune plant of Mercedes Benz would manufacture passenger cars while the Oragadam plant buses. "In Pune (bus) operations were stopped last year."
The bus plant would have about 300 personnel and the existing dealership network of Daimler India Commercial Vehicles would also participate in the Daimler Bus business.
On reports of the company's financial services division being "sick", Llistosella said: "It is very healthy and the portfolio has been growing. I handle Daimler's commercial vehicle business and it has been growing. If there is any rumour, forget it."