India and Australia have expressed a keen interest to work together to boost two-way trade following talks in Canberra during the visit of Indian Commerce Minister Anand Sharma, its Trade Minister has said.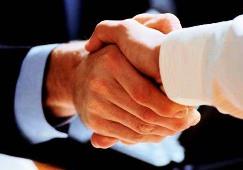 India and Australia have embarked upon talks to conclude an ambitious Comprehensive Economic Cooperation Agreement and the latest engagement resulted in an initiative being launched to develop two-way trade between the two nations and its success is expected to add over $ 40 billion to each economy.

In a recent interview of Australian Trade Minister Craig Emerson by ABC radio, he stressed on the growing importance of India, especially in the backdrop of India's quest for food security.

"With our two-way relationship with India, I think food security is going to be an issue for India and other countries of the region. The more they seek self-sufficiency in one type of food, that's less land available for another type of food. Interestingly, we're a major exporter of chick peas to India, and so that's a source of protein in Indian food," he said.

"So there are boundless opportunities and I think we have under-tapped the potential over this period since 1991," he commented.

To a query on whether the Australian government seeks to gain some concessions with regard to the massive tariffs imposed by India on food and agricultural products, he said the government would be looking at a reduction in these barriers at least in some lines and gradual elimination over time.

On the issue of whether doubling two-way trade within five years was achievable, the minister said, "A lot of it in the short-term is likely to be growth in minerals, in commodities. I think our single biggest export at the moment is gold, but that's going to broaden. We're a big exporter of hard minerals, but that will diversify over time as well."

The minister also stressed on the vital ties that two sides shared in the education sector. He said the relationship had suffered due to the spate of attacks on Indian students and the high dollar value.

"But the good news is most of that's behind us and now there's this sort of re-engagement at a very high level on education exports, if you like to call them exports," he added.

He expressed his confidence that the tensions between the two sides were over and a history, assuring of a high quality, competitive and welcoming education market for students from India.