Flagging concern over the financials of Kingfisher, its auditors have said the carrier's second-quarter net loss would have been much higher, at about Rs 1,032 crore (Rs 10.32 billion), had it followed "generally accepted accounting standards" for certain income and expenses.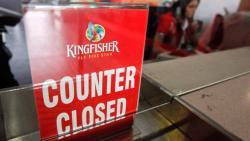 The carrier on Thursday posted net loss of Rs 754 crore (Rs 7.54 billion) for the  fiscal's second quarter ended September 30 - a widening of 61 per cent from Rs 469 crore (Rs 4.69 billion) in the year-ago quarter - taking its accumulated losses to close to Rs 9,000 crore (Rs 90 billion).

In their 'limited review report' for its second quarter results, the auditors said the losses would have been Rs 1,031.77 crore (Rs 10.31 billion) if their certain "observations" about the company's accounting procedures had been considered.

Besides, its 'reserves and surplus' would have been a  debit of Rs 12,155 crore (Rs 121.55 billion) as on September 30, 2012, as against a debit of Rs 7,339 crore (Rs 73.39 billion) reported by the company, auditors said.

The "observations" refer to the issues flagged by the auditors about the financial statements being reviewed by them.

The auditors have drawn attention to Kingfisher's financial statements being prepared on a 'going concern' basis despite its net worth
having been eroded.
"The appropriateness of the said basis is inter-alia dependent on the company's ability to obtain restoration of the scheduled air operator's permit by the DGCA, infuse requisite funds for meeting its obligations, rescheduling of debt and resuming normal operations," the auditors said.
Kingfisher's Q2 revenues plunged to Rs 200 crore (Rs 2 billion), from Rs 1,553 crore (Rs 15.53 billion) in the same period last year because of disruption in operations and eventual suspension of its licence by aviation regulator DGCA.
The report has also highlighted the method of accounting of costs incurred on major repairs and maintenance of aircraft being taken on operating lease of "Rs nil".
"In our opinion, this treatment is not in accordance with generally accepted accounting standards prevalent in India," the auditors said in their limited review report.
The carrier has said it is in discussions with various stakeholders to ensure that there are no future disruptions and expects to resume operations in the near future.
The auditors further said that Kingfisher, in past, has included as 'other income' certain subsidy provided by one of its suppliers, although the company's auditors at that time had opined this treatment in non-accordance with the Government's Accounting Standards. The current auditors have also concurred with that view.