Anant Goenka, 30, son of RPG Group chairman Harsh Goenka, will take over as managing director of Ceat, where he is currently deputy managing director — a post the tyre producer created two years ago.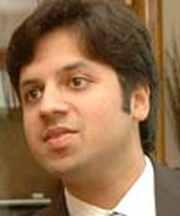 Young and abroad-educated Goenka will replace Paras K Chowdhary, 60, who will retire by this month-end. Goenka. An MBA from America's Kellogg School of Management and a BSc in economics from The Wharton School, will assume office on April 1, according to a release from the city-based company.

At his appointment as  deputy managing director in January 2010, Anant was the youngest executive on the board of India's fourth-largest tyre maker by tonnage.

Anant's father, however, continues to hold the record of taking over Ceat as its youngest boss — Harsh was 24 when he became managing director of the company in 1983. Four years later, Harsh became the chairman of the 1820-founded group.

As for Anant, who is the elder of 54-year-old Harsh Goenka's two children, he had been reporting to Ceat's Chowdhary for the past two years. Anant was with the company as speciality tyre business head before joining the board.

Anant said he felt honoured to take charge of the company from Chowdhary, who "has led this company so astutely" for the last
decade. "My aim would be to make Ceat amongst the most profitable tyre companies in India in the next five years by strengthening the Ceat brand and improving operational efficiencies," he said.
In July 2007, Anant had joined KEC International as vice president (corporate). He was in charge of telecom business, business development in North America and integrated planning and monitoring of transmission and distribution business. He later became its executive director.
Under Anant, the company now aims to optimise capacity utilisation of its newly installed plant in Halol (Gujarat) as well as expand reach in Asian markets aided by a new facility in Bangladesh.
Ceat also recently bought the global rights to the Ceat brand which will allow it to market its products in Latin America and Europe both of which were restricted earlier.
Last month, the company announced that it would invest Rs 250 crore towards setting up a green-field truck and two-wheeler tyre manufacturing plant in Bangladesh — its second overseas plant (after Sri Lanka).
Over the next three years, Ceat is targeting to be the market leader in Bangladesh with a share of 40 per cent. The plant, which is to employ 550 people, will be capable of producing tyres for light trucks, two and three-wheelers, Anant had explained in an earlier interview to
Business Standard
.