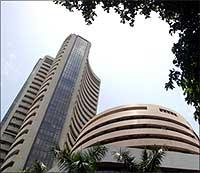 The sharp rise in the stock markets on Wednesday, while spreading overall cheer, made it a gloomy day for short sellers.
To add to their woes, some of punters' favourite stocks -- Reliance Industries Ltd, Tata Steel, Sterlite Industries, Hindalco, ICICI Bank and Reliance Infrastructure -- rose significantly. Market players say large short positions had been built up in these stocks by bear operators.
Short selling, also known as shorting or going short, is the practice of selling assets, usually securities, that have been borrowed from a third party (usually a broker) with the intention of buying identical assets back at a later date to return to the lender.
The short seller hopes to profit from a decline in the price of the assets between the sale and the repurchase (and is therefore also called a bear operator). Conversely, the short seller will incur a loss if the price of the assets rises.
The 30-share Sensitive Index, or Sensex, of the Bombay Stock Exchange rose 539 points, or 3.23 per cent, on Wednesday, while the broader S&P CNX Nifty of the National Stock Exchange rose 160 points, or 3.18 per cent.
The rise could have been baffling for short sellers as the Nifty index, which is traded on the Singapore Stock Exchange, was down 13 points at 8 am on Wednesday.
Foreign institutional investors, or FIIs, bought heavily on Wednesday. The provisional figures on BSE showed that FIIs bought shares worth Rs 769 crore (Rs 7.69 billion) in the cash market against sales of over Rs 300 crore (Rs 3 billion) in the last two days.
Nifty futures are the most widely traded futures contracts in the country and many punters often take leveraged positions on them because it is easier to predict their course.
RIL is a punters' favourite because it has the most weight in the index (16 per cent) and a its movement influences the index dramatically.
"The swift rise today was surprising for short sellers and they were forced to cut their positions due to strong buying by some of the top foreign investors, who pumped in dollars against the rupee at the exchange rate of 46.80," said Deven Choksey, managing director of Mumbai-based K R Choksey Shares and Securities on Wednesday.
He said short positions were cut in some of the high beta stocks of steel, metal and oil and gas, and Nifty futures.
Traders said some of the top bear operators, who had short sold 100,000 contracts of Nifty Futures in the December series had burnt their fingers. There had been an open interest of over 60 million 'put option' in Nifty since last week. Put options may give a tentative idea of short positions.
"Short positions were cut today as the markets will be closed for four days from Friday and traders were in no mood to take risks as there was no significant downturn in the global markets. Moreover, the demand in commodity prices is yet again seen to be picking up," said Ajay Pandey, institutional dealer at Intime Spectrum Securities, on Wednesday.
However, according to Sidhart Bhamre, head of derivatives at Angel Stock Broking, the rise was not only due to short covering but also because of a build-up of fresh long positions.
"While there was unwinding of some short positions in Reliance Industries and banking stocks, the rise in some of the metal stocks like Tata Steel and Hindalco was also due to a build-up of fresh long positions."
Image: The Bombay Stock Exchange