Fast-moving consumer goods (FMCG) companies have been scouting for brands and businesses for long. However, while the total value of FMCG deals rose from $47.94 million (Rs 264 crore) in 2009 to $947.43 million (Rs 5,211 crore) in 2010, it fell to $366.85 million (Rs 2,018 crore) in 2011, according to data compiled by advisory firm Grant Thornton. The result: Cash reserves of companies have shown a marked rise.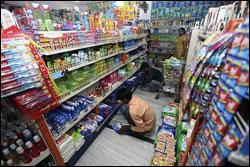 Consider this: Godrej Consumer Products, which accounted for seven acquisitions in last three years, has seen its cash reserves grow three folds to Rs 2,490 crore (Rs 24.9 billion) in 2011-12, compared with Rs 796.65 crore (Rs 7.97 billion) in 2009-10.
Dabur India, which acquired Turkey-based Hobi Kozmetik in 2010 and US-based Namaste Group in 2011, saw its cash reserves swell 70 per cent - from Rs 662 crore (Rs 6.62 billion) in 2009-10 to Rs 1,128 crore (Rs 11.28 billion) in 2011-12.
While Marico's cash reserves more than doubled to Rs 1,063 crore (Rs 10.63 billion) in 2011-12 from Rs 511 crore (Rs 5.11 billion) in 2009-10, Emami's rose to Rs 682.12 crore (Rs 6.82 billion) from Rs 605 crore (Rs 6.05 billion) in the same period. Naresh Bhansali, chief executive officer (finance, strategy & business development), Emami, says, "Companies seek the right opportunity at the right time. Till that moment, cash tends to pile up on books."
Dabur's chief financial officer S Raghunathan, however, claims his company is not sitting on surplus cash. "We have a debt to service," he says.
While the debt on books of FMCG companies has increased in the last three years, it is not substantial, say analysts. Dabur's debt, for instance, rose from Rs 106 crore (Rs 1.06 billion) in 2009-10 to Rs 273 crore (Rs 2.73 billion) in 2011-12, while Emami's debt fell from Rs 253 crore (Rs 2.53 billion) in 2009-10 to Rs 108 crore (Rs 1.08 billion) in 2011-12. Godrej Consumer Products' debt fell marginally - from Rs 272 crore (Rs 2.72 billion) in 2010-11 to Rs 237.5 crore (Rs 2.37 billion) in 2011-12, though it rose compared with Rs 12.4 crore (Rs 124 million) in 2009-10.
Marico's debt increased from Rs 376 crore (Rs 3.76 billion) in 2009-10 to Rs 552.4 crore (Rs 5.52 billion) in 2010-11 and Rs 553 in 2011-12. The company's incremental debt, say analysts, was used to fund the acquisition of Paras' personal care portfolio in 2011-12.
In February, the Mumbai-based company had acquired brands such as Setwet, Zatak and Livon from British consumer goods maker Reckitt Benckiser for Rs 600 crore. To fund the acquisition, it had offloaded about five per cent stake for Rs 500 crore (Rs 5 billion) in April to private equity players Indivest and Baring India. With this, Marico's debt-equity ratio fell from 0.8 to 0.6.
Recently, Marico's executive vice-president and head (investor relations and mergers and acquisitions), Chaitanya Deshpande, had told Business Standard the company would continue to scout for acquisitions, both in India and abroad.
"The annual turnover of the acquired business from Reckitt was about Rs 150 crore (Rs 1.5 billion) in 2011-12. This business has the potential to grow 25-30 per cent over the next few years, considering its presence in the fast-growing male styling and grooming segment. We continue to scout for opportunities in our areas of operation," he had said.
While acquiring businesses abroad has been easy for most consumer product companies, FMCG analysts say steep valuations in the domestic market have limited the number of domestic deals.
"Apart from expectations being high, promoters of potential target companies don't want to sell out at this stage, since the FMCG sector, as a whole, is doing well," says Abneesh Roy, associate director, institutional equities, research, Edelweiss Securities.
For the quarter ended June, most FMCG companies reported growth of 15-20 per cent in revenue, as demand for daily-use items continued to be high.