Apollo Group of Hospitals, the largest private healthcare provider in Asia with a bed strength of over 8000, would commission three new hospitals in the country within four weeks.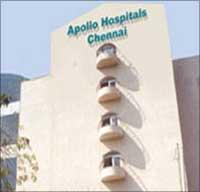 These hospitals include two Apollo speciality hospitals, one each in Hyderabad and Secunderabad and a cancer hospital in Kolkata.
Prathap C Reddy, chairman, Apollo Group of Hospitals said, "We are going to open two speciality hospitals in Hyderabad and Secunderabad and a cancer hospital in Kolkata within the next four weeks. These hospitals are a part of our plan to set up 16 new hospitals across the country at an investment of Rs 1800 crore."
The proposed new Apollo Hospitals are at various stages of completion. These new hospitals which are expected to be operational by the end of December 2011, would add around 2000 beds.
Apollo currently has a network of 49 hospitals throughout the country with over 62,000 employees.
Stating that India needs to add 100,000 beds every year over the next 20 years, Reddy said, "This scale of expansion would need an investment of Rs 50,000 crore and it calls for some enabling measures from the Government of India. Presently, India has only one bed for 1100 people which does not compare very favourably with the US which has one bed for 250 people and Japan which has an average of 82 people per bed."
He also pointed out that the country needs to triple its nursing staff and quadruple the number of paramedical professionals.
Apollo has evinced interest in setting up an institute for training nurses and paramedics in Bhubaneswar and the state chief minister Naveen Patnaik has assured support to us in this venture, Reddy stated.
He further said that Apollo has a dream of setting up a healthcare institute of global standards but the plan is still at a nascent stage.
Reddy was speaking on the eve of inauguration of the 350-bed Apollo Hospital in the city. The hospital which has been set up at an investment of around Rs 120 crore on 7.5 acres of land will be inaugurated on Friday by the state chief minister.
Pankaj S Mankad,chief executive officer, Apollo Hospital-Bhubaneswar said, "The hospital would have 60 full-time consultants apart from junior doctors. The hospital would engage around 500 people and its bed strength would be scale up depending on the need."
Apollo Hospital-Bhubaneswar will offer over 50 specialities and super-specialities, 60 intensive care units, state-of-the-art operation theatres and 24x7 emergency services.
Apollo Hospitals is also mulling to set up 2-3 smaller bed hospitals in smaller towns of the state under the 'Apollo Reach' banner. These hospitals would also offer super-specialty treatment.
The locations of such hospitals in Orissa, cost and other details are yet to be finalised.