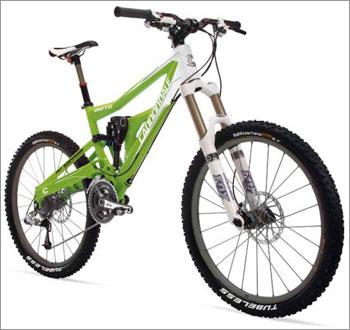 What is common between the flamboyant chief minister of a troubled state, the son and the son-in-law of one of the country's most  influential politicians?
Apart from being young, they are all bicycle enthusiasts who have paid over Rs 1 lakh (Rs 100,000) or Rs 2 lakh (Rs 200,000) to own one of these fancy, imported, multi-speed bicycles like the Cannodale and Trek, manufactured in the United States.
High-end multi-speed bikes, priced between Rs 20,000 and Rs 2 lakh apiece, are actually selling very well. Over 10,000 such high-end cycles were sold last year and the market is growing at 15 per cent yearly.
It is, of course, small compared to the total of 15 million cycles sold in the country annually, but this number has been stagnant and the margins wafer-thin, compared to the fancy bikes.
The demand has already outstripped the modest imports of these bicycles by companies. So much so, there is a waiting period of up to three months for such bikes.
"The market for such high-end bicycles is very nascent in India but it is aggressively growing, as more and more young IT (information technology) professionals are getting fitness-conscious and, therefore, prefer foreign brands of repute. Consequently, we are running out of stock for Bianchis and Cannondales and there is a waiting period of up to three months for some products," said Raghuram, president, TI Cycles.
The makers of Hercules and BSA, it is the sole importer of Cannondale, Bianchi and Schwinn bicycles in India.
About 7 per cent of these bikes are sold in the Rs 1 lakh-plus category. "Road conditions, both within cities and on the outskirts, are improving and as more and more people are exposed to the Western world and their lifestyle, there would be an increase in demand for such lifestyle products, especially by people in the 40s, who want fitness along with fun," said Abdul Majeed, national head (automotive practice), PricewaterhouseCoopers.
The high margins motivate companies to import these bikes. "The dealers have a retail margin of 24 per cent after tax, as against the industry margin of 5-15 per cent and so, more and more people want to be associated with these products as franchise stores," said Shiv Inder Singh, managing director, Firefox Bikes, which imports and sells the Trek brand.