Within a month of global giant Reckitt Benckiser Group of the UK snapping up Ahmedabad-based Paras Pharmaceuticals for Rs 3,260 crore, yet another consumer care deal seems to be brewing.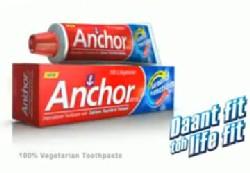 The Mumbai-based Shah family of the diversified Anchor Group has decided to put its FMCG portfolio of oral care and personal care products on the block, according to two independent sources.

A formal process of selecting potential suitors is expected to begin later this month. Kotak Mahindra Bank has been given the mandate by Anchor's promoters to advise them on the sale.

The FMCG portfolio of the Rs 2,025-crore ($450-million) Anchor group is housed in privately-held group subsidiary Anchor Health & Beauty Care (AHBC).

Founded in 1997, its portfolio includes white toothpaste, gels, toothbrushes, tooth powders and soaps.

Anchor White toothpaste, with Bollywood star Kajol as its brand ambassador, along with Anchor Gel and Dyna soap are its flagship brands. They are big volume grossers. AHBC's manufacturing facility is in Himachal Pradesh.

Sources said the FMCG portfolio is expected to end the fiscal with a close-to Rs 400-crore (Rs 4 billion) topline and the promoters are looking at three to four times current sales.

That's Rs 1,200-1,600 crore (Rs 12 to 16 billion) as a fair value for the business and brands.

However, AHBC promoter and Managing Director Atul Shah denied any such plans. "We deny this. A lot of people are speculating. We don't have any such plans of an exit. No mandate has been given to anyone," he said.

An e-mail sent to CFO Navin Patel did not elicit any response.

Analysts said AHBC gave heavyweights like HUL and Colgate Palmolive stiff competition by launching its 100 per cent vegetarian Anchor White toothpaste.

Its positioning, competitive pricing and higher trade margins forced market leaders Colgate and HUL to retaliate by dropping prices in an effort to retain consumer loyalty.

Today, the Rs 3,000-crore (Rs 30 billion) oral care market is dominated by three big players: Colgate Palmolive, HUL and Dabur, who between themselves control over 85 per cent marketshare.

Anchor's oral care portfolio is estimated to have a 4-5 per cent share, said sources.

ABHC positioned Dyna Soaps, with its four variants, in the premium category with Bollywood actor Katrina Kaif as brand ambassador.

Sources add that Dyna has been growing faster than many other in-house brands of the group.

Dyna was launched in 2006, and the company claims that within a year it became the first new beauty soap in over a decade to enter the league of top 10 national soap brands.

Sources say Dyna today has close to 3 per cent share in the Rs 8,000-crore (Rs 80 billion) domestic soap market, which is controlled by deep-pocket players like HUL, Godrej and Wipro.

Consolidation, therefore, will be a recurring theme. "Bigger and more focused players that have very strong distribution are able to scale up their business and it's becoming difficult for smaller players to compete.

Also if you are not dominant in your key categories, then the diversification route will be also tough. Big, established players with marketing muscle will also put a premium on innovation, while R&D will tend to suffer in smaller players," said a Mumbai-based FMCG analyst, who did not want to be identified.

Sources said ABHC's FMCG portfolio will elicit considerable interest among existing players, or newer entrants seeking to enter India.

"HUL or Dabur may be keen to look at Anchor for its oral care brands. Likewise, Wipro or Emami may be interested in Dyna to increase their marketshare," said an industry source privy to the developments.

"Generally speaking, homegrown brands are growing at a robust pace. That's why the nomenclature. Many such brands are actually growing faster than many of the established global peers. But to divest a business or a brand is a pure finance and business decision," said Jagdeep Kapoor, managing director at Samsika Marketing Consultants, who has advised the Anchor group in the past.

Kapoor, however, refused to comment on any specific deal.

Sources said that in the past, the Shah cousins looked at the possibility of transferring the FMCG business from one family to another as an inter-promoter group transfer.

But they had failed to come to a consensus on valuations. This time, both sides of the family seems to be ready to explore divestment options.

Forty-year-old Anchor Group, recently in the news for being part of the promoter consortium of the Kochi IPL team, has several business interests, including real estate and writing instruments.

Shah brothers Damjibhai and Jadavjibhai started their business empire in 1963, but now their sons run the day-to-day management. Damjibhai's sons, Atul and Sanjay, manage the FMCG portfolio.

Their younger cousins, Mehul and Hemang, focus on the real estate and writing instruments businesses, as well as the Kochi IPL team. They were also looking to enter the paints segment.

This is not the first time the promoters have explored options to exit a business.

In 2007, they sold 80 per cent stake in the flagship electrical business, which controlled two-thirds of the market, to Japan's Matsushita Electric Works - owners of the National and Panasonic brands - for a little over Rs 2,000 crore (Rs 20 billion).

In the same year, they also sold their consumer electronics business, Anchor Daewoo, to Chinese appliances company Haier for an undisclosed sum.

In 2009, ABHC reportedly toyed with the idea of selling Forhans, one of the country's oldest toothpaste brands, to drive the growth of its successful in-house brands.

In 2007, Anchor had acquired Forhans for an undisclosed sum from John Oak Remedies, an Indian company, which in turn bought it from Wyeth, the global pharma major, in 2005.