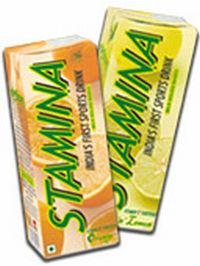 To establish a beachhead in the sports drinks market in India, Amul (Gujarat Co-operative Milk Marketing Federation (GCMMF) is gearing up to re-launch its sports drink brand Stamina.
The company has been test marketing the whey-based drink across the country since 2006, but this year the beverage will sport a new look and packaging.
From its tetrapak offering, the product will now see an extension into cans.
Unlike in the past, the drink will sport the Amul badge.
Stamina's 250ml can, available in orange and lime flavours, will cost Rs. 30, whereas the drink in tetrapak (200ml) will retail at a lower price of Rs. 15.
Amul will be treading on familiar ground as it its malt shake and coffee brands (Amul Kool and Nutramul) are all sold in cans.
Amul is betting that the vibrant imagery and new format will help catch the attention of a larger cross-section of consumers who are given to an active lifestyle.
Amul believes it has the formula right for Stamina.
"Stamina is made from whey protein, which is the liquid remaining after milk is curdled and strained," says a GCMMF official.
The brand plans to go about educating consumers on its specific health benefits.
Given Stamina is a forerunner in offering a milk-based sports drink, it is poised to open a whole new segment here, notes an industry observer.
"Amul is a highly trusted brand and milk is held in high esteem in Indian homes. However, consumer offtake will be predicated on brand building and distribution," he adds.
The sports drinks market is still in its nascency. Industry estimates peg the market close to Rs. 150 crore (Rs. 1.5 billion).
Pepsi's Gatorade and Glaxo Smith Kline's Lucozade Sport, have been actively chasing this segment with products, which are isotonic formulations - a drink that replaces fluid and electrolytes.
Despite drinks being made for specific activities, marketeers claim, consumers often confuse sports drinks with energy drinks brands like Red Bull, Cloud 9 and Coca Cola's Burn.
"Energy drinks contain high levels of caffeine which may lead to dehydration during physical activity.
"Sports drinks, meant for consumption during sports is ideal for improving stamina and performance," says Shubhajit Sen, executive vice president (marketing), Glaxo Smith
Kline Consumer Healthcare, India.
Energy drink brands in India have been typically consumed as a substitute for alcoholic beverages or as a mixer in drinks, but some consumers who are not educated drink it after a gym workout.
This year, PepsiCo India's largest initiative to build awareness for the Gatorade brand was during the ICC World Cup.
"The brand got huge visibility as it was the official sports nutrition drink," says the PepsiCo spokesperson.
Until the entry of sports drinks brands like Gatorade (in 2004) and Lucozade Sport (in 2010), Indians would typically drink glucose powder mixed in water to replenish lost fluids and energy.
Dabur India head (health and supplements) Praveen Jaipuria says, the glucose powder market pegged at Rs. 600 crore (Rs. 6 billion) is divided between Heinz's Glucon-D and Dabur's Glucose D, which has 55 per cent and 25 per cent share, respectively.
Glucose-D is slated to launch a litchi variant soon, adding to its lemon and orange offerings.
Pricing has been another deterrent to the growth of this category.
"Consumer awareness is low and hence many often will opt for a cheaper non carbonated lemon drink from the cola companies thinking these are equally energizing," adds Menon.
Gatorade tried to remedy the situation as they entered the ready-to-mix market last year with the launch of powder sachet format.
"The initiative was to make Gatorade more affordable," says the spokesperson. Gatorade ready-to-mix sells for Rs. 15 for 500ml whereas the ready-to-drink version costs Rs. 30.
A marketing expert says ruefully that glucose powder manufacturers have not reinvented itself in terms of product delivery.
"These brands do not have ready-to-go offerings and many would rather do without going to the hassle of mixing the powder in water," he says.
Anand Rathi Financial Services co-head research Shirish Pardeshi believes growth in the sports drink category will be distribution led rather than demand led.
"The growth of modern retail will also help develop the product proposition, through sampling," adds Manoj Menon, analyst (institutional equities) with Kotak Securities.
Amul's Stamina will leverage the large distribution network of the dairy giant what with a million plus outlets and 6,000 Amul parlours.
"We will also identify school canteens and specialised health stores to market Stamina," says a GCMMF official.