Concerned over high service tax substantially raising air ticket prices, Civil Aviation Minister Ajit Singh has urged Finance Minister Pranab Mukherjee to revert to the earlier rates which were capped at Rs 100 and Rs 500 per domestic and international ticket.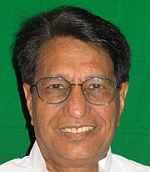 Noting that jet fuel prices in India were significantly higher than in most parts of the world due to high tax rates, he has also strongly advocated a slew of measures to make aviation turbine fuel (ATF) cheaper, including bringing it under the 'Declared Goods' category to attract a uniform lower rate of Value Added Tax (VAT).

Regarding the new rates of service tax on tickets, Singh, who has written a letter to Mukherjee, said "I have requested Hon'ble Finance Minister to revert back to the earlier rate of service tax on domestic as well as international tickets."

He said that after the latest budget, service tax was being levied on 40
per cent of the gross value of an air ticket, instead of ten per cent earlier. This lower tax amount was also capped at Rs 100 for a domestic ticket and Rs 500 for an international ticket, he said.
"The change to ad valorem rate of taxation without having any cap is a retrograde step, particularly at a time when we are advocating specific lower rate of duty for VAT on ATF by the states," Singh said, adding India was amongst few countries that levied service tax on air tickets.
Observing that the increase in service tax would make the air travel costlier, he said a 10 per cent rise in the price reduces the demand for domestic air travel by about 12 per cent, as per the price elasticity of demand calculations.
"This would definitely spell more trouble for the airline companies which are already reeling under tremendous stress due to existing inviable operating environment," he said.