Delhi Metro Rail Corporation (DMRC) has sought the government's help to bear the Rs 1,600-crore (Rs 16 billion) debt burden it might have to face after taking over the operations of the airport metro line.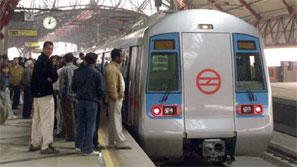 The corporation, which took over the airport metro after Reliance Infrastructure's special purpose vehicle, Delhi Airport Metro Express Pvt Ltd (DAME), withdrew from managing the service, has written to the ministry of urban development seeking assistance "in case they end up paying 80 per cent of the debt, if the lenders refuse to find another concessionaire".

A director on the DMRC board told Business Standard the current debt of the airport metro link was about Rs 2,000 crore (Rs 20 billion), of which 80 per cent, or Rs 1,600 crore (Rs 16 billion), was what DMRC could end up paying.

The only way out for DMRC would be if the lenders, a consortium of 10 banks, find another concessionaire for the project, which seems unlikely in the current situation. The financial assistance would be given to DMRC only after a nod from the empowered group of ministers (EGoM) headed by the finance minister. The matter is expected to go to the EGoM after the lenders take a call on the project, likely in eight to 10 days.

According to the concession agreement between DAME and DMRC, the corporation would have to pay 80 per cent of the debt, even if DAME defaults. The clause was put in to ensure greater protection to the lenders.

Another sticky issue is the subordinate debt DAME had raised by diluting the debt-equity ratio of 70:30, which it claimed to have the right to do under the agreement. DAME's equity in Delhi Airport Express is Rs 1 lakh.

A questionnaire sent to Reliance Infrastructure was unanswered.

DMRC officials said R-Infra had reduced equity because it wanted to exit the project.
"The dilution of equity was done to bring this sum under the definition of debt. If a higher sum is brought under the definition of debt, it helps the company, as equity cannot be recovered in case the concessionaire is found to be in breach of the contract," said a DMRC official.


Collateral damage

Project cost: Rs 5,800 cr; 50:50 partnership of DMRC and DAME
Debt:equity ratio decided for DAME 70:30
Current debt: About Rs 2,000 cr
Subordinate debt: Rs 800 cr
Current equity: Rs 1 lakh
If DAME is found liable of breach: DMRC pays Rs 1,600 cr to lenders as debt due and operates the airport metro express service; no equity refund
If DMRC is found to be liable of breach: DMRC pays Rs 2,000 cr debt and 150% of equity
Other disputed claims: Rs 800 cr of subordinate debt to be a matter of legal interpretation of debt; DMRC calls R-Infra's other claims of about Rs 795 cr exaggerated