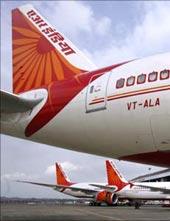 National Aviation Company Ltd (Nacil), the entity formed by the merger of Air India and Indian Airlines, has failed to keep up to its promise -- it is yet to provide equal access to a large part of the 30,000 employees under its fold.
Two-and-a-half years after the merger, the public sector aviation company has been able to integrate only 300 of the 30,000 employees. The plan was to complete the integration process within a year-and-a-half of the merger.
"Human resource (HR) integration has been done up to the deputy general manager (DGM) level and below that integration is under process," said a senior Air India official, who did not want to be identified. "The number of employees up to the DGM level from top is only 300."
The merger of the airline was cleared by the Empowered Group of Ministers on February 21, 2007, and by the Cabinet on March 1, 2007 and became effective from August 27, the same year.
Prior to the merger, Air India and Indian Airlines had different sets of HR rules for promotion, perks and work culture. "The promotion rules of the airlines are different. Since the merger, employees forming part of Air India have received promotions, while people belonging to Indian Airlines have not got any promotion," the official added.
In erstwhile Air India, promotion was on the basis of seniority, whereas Indian Airlines promoted their staff on the basis of interviews.
Air India Chairman and Managing Director Arvind Jadhav had raised his concerns before the Committee on Public Undertakings. "Air India and Indian Airlines scales and designations do not match. If the working conditions match, non-wage related allowances do not match; even if the non-wage related allowances match, the attitude of the two sections don't. Seniority is another factor that proves to be a hurdle."
Air India is expected to see losses go up by another Rs 5,000 crore (Rs 50 billion) in 2010-11. It has been partly bailed out by the government, by pumping in Rs 800 crore (Rs 8 billion) of equity in the current financial year and another Rs 1,200 crore (Rs 12 billion) is expected during the next financial year.
The cash-strapped carrier already has over Rs 16,000 crore (Rs 160 billion) working capital borrowings on its balance sheet and borrowings have risen sharply from Rs 6,550 crore (Rs 65.50 billion) in November 2007 to Rs 15,241 crore (Rs billion) in June 2009 -- primarily on account of interest payments on acquisition of aircraft.
To partly fund its aircraft acquisition, Air India and Air India Express, the low-cost subsidiary, are also planning to issue Rs 795 crore (Rs 7.95 billion) worth of non-convertible 10-year bonds. Nacil will sell bonds worth Rs 700 crore (Rs 7 billion) and its subsidiary will sell securities worth Rs 95 crore (Rs 950 million).