The global air travel map is being redrawn as growth rates slow in traditional markets and surge in evolving economies including India, Africa and Latin America, President and CEO of Etihad Airways James Hogan has said.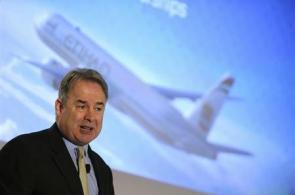 Hogan's comments have come after the recent announcement by Etihad Airways of a 24 per cent strategic equity investment in Jet Airways, the second largest airline in India.

Delivering the fifth annual Airneth Lecture to aviation industry executives, policymakers and researchers in Amsterdam, Hogan said the major shift occurring in the global economy is impacting significantly the air transport industry, requiring airlines to reshape their networks and enter new partnerships in order to remain competitive.

He said markets which would benefit most from the continued growth in air transport would be those in 'aviation-friendly jurisdictions' in which governments recognised the economic contributions of airlines and the technological advances and capabilities of aircraft.

"Legacy markets are growing, but at a slower pace. Emerging markets are surging. Traffic patterns and demographics are changing. Traditional air transport hubs are declining in prominence, with growth constrained by inadequate infrastructure and ingrained political resistance to change."

"The Arabian Gulf - the geographic centre of the world - is now evolving as the global centre of the air transport industry, with the number of passengers
passing through Gulf hubs outstripping industry growth rates," said Hogan.
IATA figures shows that in February, 2013, Middle East hub traffic was up by 10.6 per cent over February, 2012, compared with the global growth rate of 3.7 per cent.
Hogan said the airline industry is entering a new phase of consolidation, as no single carrier could satisfy the global growth in passenger traffic.
In addition to its new investment in Jet Airways, Etihad Airways has acquired stakes in airberlin (just under 30 per cent), Air Seychelles (40 per cent), Virgin Australia (8.56 per cent) and Aer Lingus (just under 3 per cent), and continues to explore opportunities where they make financial and strategic sense.
Hogan also said a new hybrid business model is emerging, in which minority equity alliances are bridging the gap between full mergers and legacy alliances.
"The new business model delivers benefits which previously were available only through full mergers or acquisitions," he said.
These benefits include joint procurement, ross-utilisation of aircraft, joint training of pilots and cabin crew, shared sales forces in common destinations, and dual focus on revenue growth and cost reduction.
He said growth also would be maximised in markets like Abu Dhabi where governments embraced and implemented open skies policies, and planned airports, infrastructure, airspace corridors and operational regulations to support the industry and its customers.
Image
: James Hogan, Etihad's chief executive.