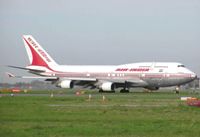 After witnessing a double digit increase in percentage terms in the last four years, aircraft movement as well as passenger and freight traffic have recorded a negative growth rate during the last fiscal, government said on Thursday.
"Aircraft movements, passenger and freight traffic registered negative growth rate of -00.10, -06.80 and -01.00 per cent during 2008-09," civil aviation minister Praful Patel said in a written reply to a query in Lok Sabha.
The minister also said that the foreign airlines had increased their operations by 85 per cent in the last five years in the country.
"In the summer of 2004, foreign airlines operated 711 services every week to and from India, which was increased to 1,315 services per week by summer of 2009. The increase is around 85 per cent over the five years," Patel said while replying to another question.
He added that the number of passengers had also risen from 14 million to 27 million during the same period, which was about 90 per cent.
In reply to another query, Patel stated that the National Aviation Company of India Limited, formed after the merger of Air India and Indian, had a total of 30,753 employees.
He stated that NACIL had received complaints regarding irregularities in recruitment of trainee pilots in April 2009 but investigations did not find any of the allegations to be justified.